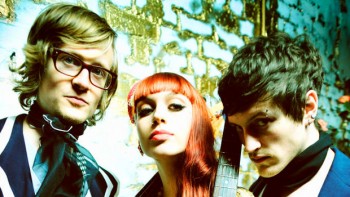 – THE NIGHT & DAY CAFE, MANCHESTER –
The legendary Night and Day Cafe is 20 years old this year and tonight Stockport trio, The Jessie Rose Trip have been invited to headline their Birthday shindig.
The Jessie Rose Trip have been flying the 'next big thing' banner for a few years now and come highly recommended by XFM, BBC Radio Manchester, The Guardian, John Robb, Clint Boon and The Stone Roses' bassist Mani. The female fronted band are a modern take on 60's soul, mixed with the strong, sincere vocals of old-school, female jazz/blues singers; only with an added sex-kitten edge of bright red hair, electric guitars and hot fashion.
It's been 3 years since The Jessie Rose Trip first crossed my path. Just  fresh on the scene, front lady Jessie submitted her debut single, the deliciously soulful Forever and a Day to the NOISE Festival 2008. NOISEfestival.com music judges, Mercury Music prize winner Badly Drawn Boy and top urban producer Bless Beats (Wiley, Chipmunk) both chose The Jessie Rose Trip as their Curator Choices. The accolade saw the band perform their tracks live with Badly Drawn Boy at a NOISE gig at the Manchester Town Hall. In the same year they were crowned Best Act at 'In The City'.
I'm excited to see what's become of the band in that time. I'm rather chuffed that they're still around AND taking the top billing at one of Manchester's most famous venues, biggest of nights. Many of the world's major bands have started their international careers playing here and most have returned for low-key intimate gigs.
With a re-jigged line-up (dropped a few, gained some new) The Jessie Rose Trip are now signed to US based S-Curve Records with a global, 3-album record deal – the same dudes behind Joss Stone's catapult to American stardom.
Night and Day is rammed tonight, however, most punters are choosing to linger front of house, leaving the stage area quite roomy. Head lass Jessie Rose, is wearing a feather boa and the tightest, brightest red spandex trousers you ever did see. Clashing or complementing her now trademark siren red hair and red filtered stage lighting. There's no doubting this girl has a stand-out, unique style; reminiscent of a young attention-seeking Debbie Harry. Joining her on stage is Jimmy Wood on the drums (who's far too set back on the stage I can't see him) and Mark Lewis on the bass, rocking the male, geek-chic look.
The audience have gathered towards the stage and  know every word to 'Love Me (The Way You Love Me)', kicking off tonight's birthday bash. Whilst this song has chart –likability written all over it, it lacks the unique raw edge of some Jessie songs. However, we see a demonstration of Jessie's undeniable talent as she balances the keys, guitar lead and vocals. She's a natural leading lady, who's been practicing her stadium, rock-chick banter, "I wanna see those hands-together, let's see some love in this room!".
'Step-Aside' clearly shows that the music has matured loads over the years, and she's got a helluva lot racier, deffo girl crush material. 'Oh No Don't Go' the new single, due out early next year has slight ska undertone, picked up by this ladies immense voice.   Her  vocals shine through again on 'Save You', as she kicks off her heels and unwraps the feather boa. Since TJRT first surfaced there's been a plethora of strong female acts that have burst onto, and saturated the scene, with the usual hum drum of social commentary about smelly boys, broken hearts and feeling all strong and empowered and that. Ok, so some of Jessie's lyrics are about "shit with blokes or blokes and their shit", but it's that Manc attitude, positioned with that voice, joint musical ability and their combined onstage-chemistry, that makes the band already one step ahead of the masses.
 
Admitting that it's their first gig in ages, she hits the higher notes with pure ease. One of the stand-out tracks of the night is the encore 'You Won't Forget Me Boy', another single release on the Secret Garden Party Festival's label Garden Records last year. My vision is blocked by glowing camera phones and tiny flickering camera screens. Jessie has a bit of show woman Gwen Stefani-esq moment and stands on top of the monitors, for a grand finale of an elongated guitar solo.
Jessie is the star of the show, good job the band's named after her.
They've been hotly tipped for years. Edging on the cusp of super stardom, but never delivering it, let's hope this new record deal makes it happen. The Jessie Rose Trip could be one of the most exciting and original Mancunian exports that this city's seen in ages.