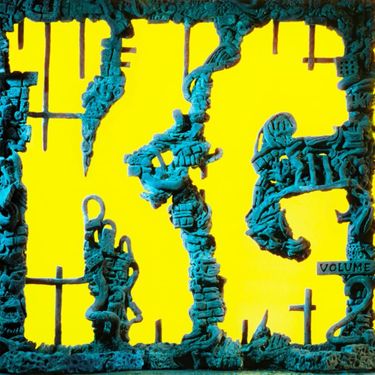 Since the release of 2017's Flying Microtonal Banana, Australian psych-rockers King Gizzard and the Lizard Wizard have always hinted at further exploration into the world of microtonal tuning. Now studio album number sixteen KG, finally delivers with an amalgamation of microtones and essences of previous albums adding to their ever-present and diverse musical odysseys.
Beginning with an eerie wind sound similar to Rattlesnake, K.G.L.W feels as though it could also be a medieval introduction to Crumbling Castle, further implementing the band's frequent call-backs to previous work, subsequently diving into Automation and thrusting the listener back into the world of microtones.
As with the first edition, the influence of Turkish and Middle Eastern sound is prevalent. Minimum Brain Size utilises a baglama-esque layer blended with Michael Cavanagh's, now solo, unusually-timed drum patterns along with familiar guitar effects and seamless transitioning between songs to tie the album together, another common Gizzard feature resulting in a sinuous flow throughout its 41-minute voyage.
Another welcome addition is a microtonal acoustic guitar. An absentee from the first edition but ubiquitous in Straws in the Wind and Honey, bringing a more stripped-down feeling to these tracks allowing a breather from the franticness of the rest of the album.
Whilst the track Some of Us could not really be placed when it was released earlier in the year, it slots perfectly into midpoint of the album and continues to add colour and vibrancy to the microtonal picture. Before crossing perfectly back to one of the overall themes as Ontology grabs the Middle Eastern influence, Arabian-esque melodies flourish into a torrent of an unmistakable King Gizzard instrumental piece.
From here, the album arguably reaches its highlight with Intrasport being a tremendous eye-opener. Whilst remaining true to the Turkish sound, the band have seemingly created a Turkish disco sound, with drum machines and several musical breakdowns. Not only is this unexpected but with this band, there is very little wrong with it. This is likely to have coincided with guitarist Joe Walker's side project Bullant, which incorporates more electronic techniques into its music resulting in house-like tracks similar to this.
Honey quickly has become a fan favourite. Lyrically focusing on the problems our world is currently facing, the crescendo of the album really is brought back down gently with singer Stu contemplating life and the potential future of planet Earth. Descending then back into madness into The Hungry Wolf of Fate, an angry, striking finale bringing a looming sense of thick darkness to the mixture.
The band has always mentioned that they had written other microtonal songs over the years and most of this album could have fit easily into the 2017 edition. Although there are newer songs, such as Intrasport, the ones from earlier periods are evident, finally being heard and it could not have come soon enough. This album is an excellent addition to the band's discography and has definitely been an uplift to 2020 for the band's fans.
King Gizzard & The Lizard Wizard – KG: Out Now (Flightless Records)