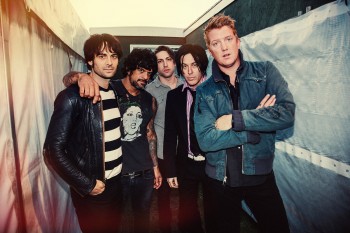 – PHONES 4U ARENA, MANCHESTER –
Though in recent years we may see Josh Homme hidden under the radar as a family man with his two children and rock prom queen Brody Dalle by his side, most of us dreamt of the day we would see 'Ginger Elvis' take the stage again. True Rock n' Roll royalty, Queens of the Stone Age return to Manchester tonight to play at the arena and expectations are high.
QOTSA fans stagger in at half past eight, filling the seats of the venue to a compilation of Ramones tracks while the crew set up for a new kind of royal arrival in the UK. The house lights dim to a roar of thunder as a timer counts down the seconds until our American friends hit the stage. Primal through an hourglass of anxiety, everyone in the now-packed house count down along with the projection on stage as the opening shudder of Songs For The Deaf anthem 'You Think I Ain't Worth A Dollar But I Feel Like A Millionaire' breaks out. Honestly right,  they couldn't have picked a better song to kick off with.
With Homme stood still at the mic stand and his black peacoat collar cuffed up, that loveable chug of 'No One Knows' causes a frenzy of Mancs to sing along. An energy storm is brewing on the projection behind the band as he acknowledges the crowd with a carnal grin – "Manchester, how the hell are ya? It's Goddamn good to see you." And despite that they're playing an arena tour, QOTSA certainly don't crutch themselves on a side-reel of carnival stage paraphernalia to support them. Bare as bones with a minimalist screen of graphics behind them, it just works.
Filtering tracks from the band's latest effort …Like Clockwork with hits from the ghosts of albums past, former member of The Mars Volta, Jon Theodore slays on drums in 'Burn The Witch' which precedes 'My God Is The Sun' effortlessly, showing a maturity in the band's ascension, assuring us they can still write a clever and biting turn of phrase. Despite fast transitions, QOTSA tend to the savage elements of each song with such fine tuned dedication. Noticeable at best in one of my top 5 QOTSA tracks, it's the guttural grit in 'The Lost Art of Keeping a Secret' that catches wind of such durability,  even beneath some of the new album's most breakthrough songs 'I Appear Missing' and 'If I Had A Tail'.
As Homme intones during one of his gentlemanly commentaries, "This one goes out to all the little sisters" the 2005 single begins beneath soaring cries and wolf whistles. Evocative for classic rock and roll purity, former Desert Sessions cut 'Make It Wit Chu' is laced with vocal harmonies tonight while 'Sick Sick Sick' is whirl winded by a spell of collective guitars.
Playing something like 24 songs, QOTSA prove they've still got it, and more importantly, it never went away. A set evenly balanced with creative confidence, they blend the barriers between art-rock values and traditionally powerful and self-igniting music.  The very ethos of Queens of the Stone Age is fuelled further by their injunction to evolve continually as artists and still manage to survive as relevant in a time when what should be a natural progression of music, has actually digressed into a mop-bucket of revival bands, reunion tours and as of last week, boy band supergroups. Some of the most dignified musical commentary of the last decade can be credited to Queens of the Stone Age, which is why their musical venture only proves to outline the future of the industry and in result, rule superior as one f***ing cool band to see live.

Queens Of The Stone Age  Official | Facebook | Twitter | Youtube