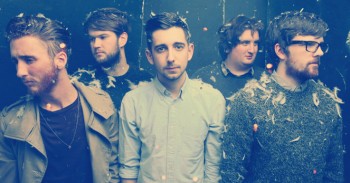 – PHONES 4U ARENA, MANCHESTER – 
It's a pretty big deal when a young British band, who have spent years playing every toilet venue in the UK and beyond finally get a break and get to play some bigger rooms. So it must feel pretty good to be in Eliza And The Bear right now. After a successful headline tour around the UK, the London based outfit were picked personally by pop-punk princess Hayley Williams to support her band Paramore on their current arena tour around the UK.
Tonight we're at the newly named 'Phones 4U Arena' in the heart of the city for the first night of Paramore's tour and as teenagers literally stampede their way to the front of the arena to get a good view, excitement and anticipation is in the air.
As the arena lights are abruptly cut and synthy bleeps are blared out the speakers, the crowd explode into screams and applause as the six members of Eliza And The Bear leap onto stage launching into their rousing brand of indie pop. The whole set tonight is delivered with confidence, as if all their hard work has been building up to this point and it's this sheer conviction and energy in the bands performance that makes this quite a real moment to be a part for both the band and fans of the band. And although I wish that frontman James wouldn't swear so much (it's a family show after all), I can see why he'd get overwhelmed as the crowd are really responding to their simplistic, catchy melodies; singing, clapping and jumping along with the band.
Musically, they've written a set of massive pop songs, almost purposely built for such venues. Pianos and brass act as a main focus in some tracks, adding a grandiose dynamic to their already massive sound; its refreshing to see a band move away from just cranking up the guitars. In terms of style, they have the straight up pop sensibilities of bands like Mystery Jets and Dog Is Dead with the majesty of Arcade Fire and that same rousing, brotherhood type energy that made Mumford and Sons such an enthralling live act.  As the band end on their incredibly catchy new single 'Friends', I am left with a warm feeling and the thought that with their passionately performed set of soon to be radio smash hits, Eliza And The Bear are set for the year they've been waiting for as stardom awaits in 2014.
Eliza And The Bear Official | Facebook | Twitter  | Soundcloud