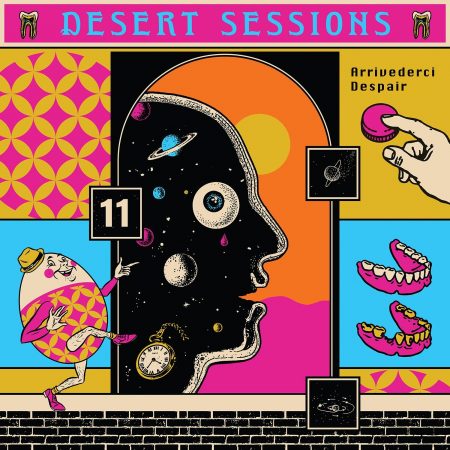 The Queens Of The Stoneage frontman has once again put together a fine band of musicians for his Desert Sessions project – from ZZ Top's Billy Gibbons, to Matt Berry, Stella Mogzawa from Warpaint to Jake Shears from the Scissor Sisters. What started off as Josh Homme having a few days away at the Rancho De La Luna studios in the Joshua Tree, California with some mates to see what would happen, has turned into a mind meltingly good series of albums, with previous desert dignitaries including PJ Harvey, Mark Lanegan and Dean Ween. It's been sixteen years since that instalment, a lot has changed, but reassuringly, the desert with its vast open landscape, still seems to inspire a certain kind of expansive rock sound which Homme has always been drawn to.
The party in the desert produced some fast and furious melodic rock as on opener 'Move Together', with Billy Gibbons vocals leading the way before a full on fuzzed up guitar riff comes hurtling in, until it creeps back down again, keeping a menacing yet melodic pace, plus there's the full on riffage on 'Nose In Roses, Forever', with guitars duelling powering the tune along, matched with the hefty vocals of Homme. There's the Led Zep instrumental qualities of the psych guitar opus that is 'Far East For The Trees' whereas 'Crucifire' with lead vocals by Mike Kerr from Royal Blood is a full on rock blast. Verging on the bizarre, there's the Zappa meets Sparks meets John Shuttleworth tune that is 'Chic Tweetz', with vocals by Matt Berry and Toornst Hulpft (who many believe to be Homme in disguise). Volumes 11 and 12 have been given the titles 'Arrivederci Despair' and 'Tightwads & Nitwits & Critics & Heels', no one will probably ever know the real reason behind these titles apart from those that were there, but you can bet amidst the hard graft of creativity that went on, there was a fair amount of partying going on too, or at least a few wines on the porch overlooking the desert at sunset.
Homme as host of the musical shenanigans, is always adept at knowing who should take lead vocals on a tune, taking people out of their comfort zone, with invigorating musical results. Another brilliant addition to the Desert Sessions series.
Desert Sessions: Volume 11 & 12  – Out Now (Matador Records)