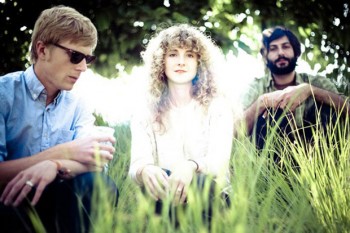 The much anticipated second album from Denver-based Tennis, Young and Old, is set for release February 14th, 2012 on Fat Possum Records. Their widely praised debut Cape Dory, which The Wall Street Journal called "a winsome set of breezy pop songs," was released earlier this year.
For their forthcoming album guitarist Patrick Riley, vocalist Aliana Moore and drummer James Barone headed to Nashville to work with The Black Keys' Patrick Carney. The first single from these sessions, "Origins," will be released on limited edition blue 7" vinyl on December 6 via Forest Family Records.
The session was a collaboration between producer and artists, and the richness of the output is a great indicator of the chemistry the band shared with Carney. On the Origins 7″ double A-Side "Deep In The Woods" you will find the title track's perfect counterpart. The self-produced "Deep In The Woods," displays vintage warmth and intimacy while still being ripe with the band's creative progress. You can currently pre-order the Origins 7″ from Forest Family Records.
After the success of their first album and touring for the better part of a year that included shows as far away as Moscow, Riley and Moore returned home and realised what was initially a bedroom recording project had quickly evolved into a band. The challenge of a second record was upon them, but songwriting came quickly and in three months the duo had most of the material for their new album. The goal this time was to mature and vary their sound. Riley describes the new direction as "Stevie Nicks going through a Motown phase." By the time they hooked up with Carney, they had fleshed out most of the songs that would comprise Young and Old. With their friend and mentor at the producer helm, the recording progressed naturally and within 3 weeks the album was done. While their debut was written with a third touring member in mind, the new album is written and recorded with the addition of a fourth.
Over the last few months, Tennis has also released a series of covers as free downloads including "Is It True" by Brenda Lee and their take of "Tell Her No" by The Zombies (on their Facebook page). To support the new 7" and road rehearse new songs, the band will embark on a December run of west coast dates with The Miniature Tigers supporting.