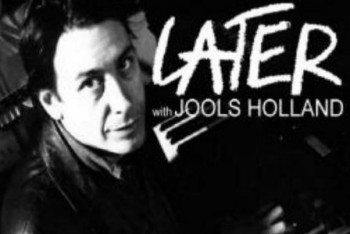 I'm watching Jools Holland, and goodness me, it really will be a blast from the past, with the Red Hot Chili Peppers, Noel Gallagher and Bjork all appearing. So what's in store? Perhaps an lot of pallid playing from past-it performers – or perhaps some real quality from the old pros. So how does it go?
Red Hot Chili Peppers – The Adventures of Rain Dance Maggie
This song truly is so darn banal, limp and lifeless that it would be a huge disappointment to my younger self. On the other hand, my younger self already felt deeply, deeply let down by RHCP's appearance at 'Reading in the North 2000' and gave up on the Chilis so it's no real surprise. At best this is like a JLS song made up of a Sly and Robbie tune with some awful pop vocal layered over the top. At worst, it's like a JLS orginal but with worse harmonies. To be honest, this could be any song off the new RHCP album though – something I won't be listening to in full.
Noel Gallagher – AKA… What A Life
I last listened to Oasis (apart from the odd Royle Family credits) when their third album debuted on Top of the Pops. I held no hope for Noel's solo stuff, but this song is actually quite involving and absorbing – there is a genuine level of emotionality in this track and a maturity which I never really expected from any member of Oasis. To be fair, if any member of that band had talent, it was Noel and the old dog seems to have learned new tricks (if only one or two new chords).
Bjork – Crystalline
I hated RHCP for including a bunch of kids on their 1995 song 'Aeroplane', and I stick by the principle in general – kids suck: 'Hang the DJ'? The chorus is annoying, if not the ruin of a good song; 'Another Brick in the Wall Part II'? The best of a bad bunch. Singing kids just remind me of school – and I was too cool for school, man. Still, this isn't bad, with that down-tempo, stripped-down Bjork sound, featuring some interesting east-Asian drum stylings.
Bjork has been a wonderful innovator in music for many years, and thus far, despite the kid-choir and a pretty awful drum-solo-finale, the preferences of the 'young me' have been proved utterly wrong, Chilis, Noel, Bjork have proved they ought to be considered in reverse order to how I perceived them as a 15-year-old – the exact reverse of the order in which they appeared tonight.
Michael Kiwanuka – I'm Getting Ready
There is a place in my heart for a classic folk song, well executed. The problem is that so many people have done this type of songs so well that getting them wrong just falls so very flat. Kiwanuka is simply a man with a good voice and a guitar, playing his own simple, hopeful song in a major key. Jack Johnson and Ben Harper can do it – why not Michael Kiwanuka? With a voice like Cat Stevens, he can't go far wrong…
Spector – What You Wanted
This new band fits much more in to the mode du jour – despite a considered attempt to look like Buddy Holly and the Crickets and a retro feel throughout the song. Every band member is involved, and massed vocals and energetic performance define this band. There is some influence from the Killers and a definite slice of frontman-inspiration from Jarvis Cocker. I'm as impressed with the drummer as I am disappointed at his technique – there's a really effective sound coming from a man who really can't play too well. All in all, I have to say, the music isn't greatly memorable or greatly impressive but I'm old now and I hate everything, so why not accept that this is OK?
Gillian Welch – The Way it Goes
Just like with a Manchester fave of mine Jo Rose, there's a bit of a difficulty for me reconciling such unashamed Americana with my decidedly un-American (and anti-American-empire) views. Amittedly, this is made by genuine Yanks, so it's a bit easier to stomach, but it doesn't really resonate with me, despite making the most of the tradition of genuine emotional storytelling typical of Country and Western music. Furthermore, there's some really great guitar work from David Rawlings. The sound that both Rawlings and Welch get by moving around with their mic'd up steel-string instruments really gives an atmosphere to this sound which might not come through in a studio recording.
Unfortunately, the finale is the Chili's again with – Monarchy of Roses
Despite the title hinting at an epic 'Game of Thrones'-esque political intrigue, this tune is, on first listen, devoid of any lyrical significance. It's as effect-driven as it is musically tight, though, and there is a real consummate professionalism here that one very rarely sees outside of the sort of bands who support washed-up singers on Saturday nights in Vegas showrooms. It does nothing for me, apart from make me realise that there is a home for all those spare t-shirts I own. Apparently there are middle-aged California residents who really, really need to wear some…