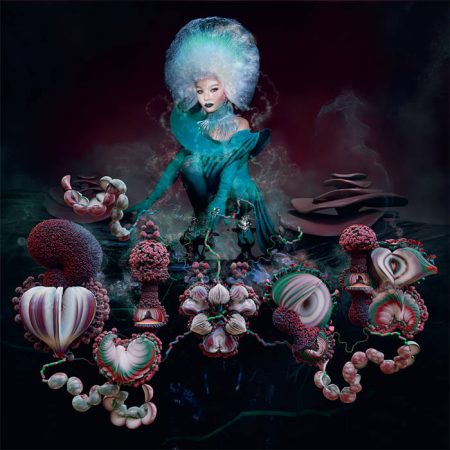 Bjork occupies a unique place in pop music, famous enough to be accorded a Channel 4 documentary with David Attenborough and to be an answer in prime-time TV quiz shows, yet the creator of increasingly unlikely music. From the early wonky indie of the Sugarcubes, through the first two dance-inflected solo records that made her a chart regular to her previous album, 'Utopia, a harp and flute feast, she has been someone to whom repeating her earlier triumphs is anathema. 
Each Bjork release has a genuine sense of anticipation, not knowing what she will do next.  It is a logical approach as her distinctive voice, immediately recognisable, with its peculiarities of accent and phrasing, especially the rolling of r's, could make her output samey without such bracing changes of musical direction.
For those seeking adventurous sounds, 'fossora' does not disappoint. Whereas Bjork has dubbed 'Utopia' as her sci-fi island in the sky selection with a lack of bottom-end, she sees 'fossora' as her mushroom album with an earthy quality, appropriate as fossore is the Latin for digger and Bjork has created her own feminine version of the word.
Lead track 'atopos' is a flawless combination of bass clarinet (which plays an octave below the conventional clarinet) and satisfyingly mathematically complex gabba, magically hitting the sweet spot between the unfamiliar and the instantly appealing in its pursuit of connection ("our differences are irrelevant/our union is stronger than us/hope is a muscle/that allows us to connect").
'ovule' has a magnificent timpani and trombone arrangement, underpinned by fractured beats. Its autobiographical tale ("when I was a girl/ I felt love was a building/ I marched towards/ but deadly demonic divorces demolished the ideal") of struggles within relationships sees her ultimately strengthened.
On an album that progresses from one highlight to another, 'mycelia' is an instrumental heartbeat offering a breather before a brace of tracks offering a eulogy and epitaph for her mother, Hildur Runa. 'sorrowful soil' is a beautifully intense choral arrangement; and 'ancestress' is a gigantic orchestral piece detailing how "she has idiosyncratic sense of rhythm/dyslexia, the ultimate freedom/ she invents words and adds syllables/ handwriting, language all her own" which could be Bjork describing how she is perceived and also reflecting "you see with your own eyes/ but hear with your mother's". Maintaining the family affair, her son, Sindri, shares vocal duties on 'ancestress'.
A brief interlude, 'fagurt er i fjordum' is an 18th Century Icelandic folk song and the one song performed in her native language before 'victimhood' with its sombre, noirish tinge to the clarinets and beats has Bjork calling upon herself to step out of that state prior to a fade in which voices are used to create rhythms.
Returning to the earth theme, 'allow' would have fitted snugly onto 'Utopia' with its glorious flutes and a paean to the open air and nature. A collaboration with serpentwithfeet, 'fungal city' weaves together clarinet and strings to joyous effect ("his capacity for love is enormous/ his celebrational intelligence is ridiculous/ his capacity for love encourages me to have/ capacity for love").
'trolla-gabba' has hums combining with industrial percussion while 'freefall' pitches cello to the forefront of the mix in its tale of love, the universe, the elements and a glimpse of Bjork's guiding philosophy "if we cling to what we used to be/ it will burn our souls".
The title track brings clarinet, oboe and hardcore rhythms to the party to create an exhilarating dance track. The concluding piece, 'her mother's house', brings a tear to the eye, a song written with her daughter, Doa, about flying the nest. With its delicate keyboard and cor anglais accompaniment, it is absolutely beautiful. 
Bjork throws together combinations that could easily be made up by a music journalist desperate to write about something different but, remarkably, she glides effortlessly through what could have been awkward juxtapositions to create (to follow her lead in creating feminine versions of established words) a mistresspiece. 
Bjork: fossora – Out 30th September 2022 (One Little Independent Records)