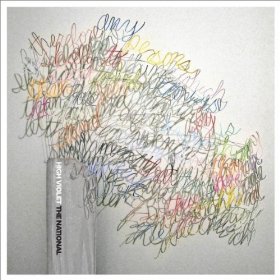 To coincide with the expanded edition of High Violet, The National release the album's best track, 'Terrible Love'. Though well-respected, The National have always courted boringness like an enemy they keep too close. But with 'Terrible Love' that enemy is thrown into a pit and buried alive, because wow, this track is extraordinary.
Cleverly, the guitars do little more than provide a fuzzy, shimmering backdrop to Matt Berninger's softly intoning, baritone voice, so that when he utters, "It takes a while to settle down", the drums explode into the track like a burning car lighting up the neighbourhood at 4am. Up to this moment every instrument is deadened and suppressed making it blindingly dramatic, intensifying the underlying euphoric paranoia of the lyrics. Berninger is walking with spiders, and, "It takes an ocean not to break."
This song confirms The National as masters of atmosphere and suspense, and though sometimes I feel that they might be a little dull, I listen to 'Terrible Love' and that feeling dissipates like morning mist with the rising of the sun.
Release Date 22/11/2010 (4AD)