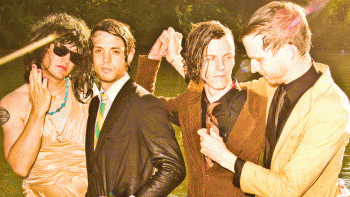 – THE DEAF INSTITUTE, MANCHESTER –
STRFKR and I go way, way back – to my college days, to be exact. 'Julius' was one of the many anthems blasting through my car speakers at half six in the morning and four in the evening. The electronic band hails from Portland, Oregon and started off as Joshua Hodges' solo project.
I am nursing a bout of flu, but when has being ill ever stopped me from catching a gig? Putting on a comfy hoodie, I huddle down to The Deaf Institute. Surprisingly, the music hall is pretty empty. But as the clock ticks closer to stage time, people trickle in and inch forward.
The band plays a whopping total of 22 songs from their past three albums, Reptilians, Jupiter and Miracle Mile. All the offerings carry the unmistakable sound of STRFKR, delivering addictively snazzy melodies provided by partnering the bass guitar and the electric guitar, glossing over with laborious synth beats and delightfully unassuming vocals.
For the entirety of the night, the crowd never stops moving and dancing, especially during 'Leave It All Behind', 'Bury Us Alive' and 'Boy Toy'. Sometimes it gets out of hand, but all in the name of fun. The band has a knack for stopping in the middle of a song before launching right into it again. It adds a certain suspense value that whets the crowd's appetite.
Another highlight is despite the fact that STRFKR is almost strictly electronic, they do employ other instruments on their songs. These include the tambourine on 'While I'm Alive', the shaker on 'Medicine' and the maracas on 'Mona Vegas'. Special mention must be given to STRFKR's cover of Cyndi Lauper's 'Girls Just Want To Have Fun'. They do a really wicked version of it, which made the crowd (and I) go crazy.
Having said all that, STRFKR is a terribly quiet band when it comes to audience interaction. The lack of small talk is blindingly obvious and a far cry from the din their music causes. But it is, after all, their first time in Manchester so perhaps you could attribute it to first impression nerves. And I do believe that the minimum communication is what enabled the band to have such a lengthy setlist, so I'm not complaining, and from what I saw that night, neither is the crowd.