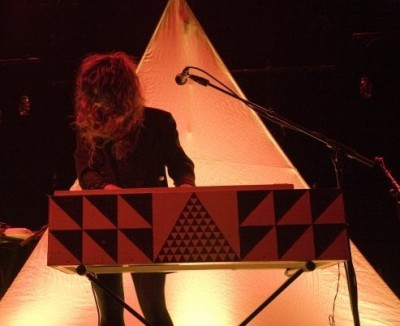 – MANCHESTER CATHEDRAL, MANCHESTER –
Manchester Cathedral is perhaps not the most obvious venue for a 'rock' concert but then again Beach House are not an obvious 'rock' band, if at all. It's been quite a year for the Baltimore duo who started the year playing at the 250 capacity Islington Mill and now find themselves in the elevated position of selling out Cathedrals. It's the stuff of school boys' dreams, but the less said about school boys and the Church the better.
It's a venue befitting of a band that have come to be held in such reverence. Promoters Now Wave have done an excellent job in enhancing the mood further by incorporating an installation of luminous pyramids. Like a vista of some futuristic alien Egypt, they dot around the stage emitting translucent purple and red hues which backlight the otherwise pitch black Cathedral.
Intermittent hazes of smoke burst onto the stage, a rare occasion at a gig where the use of a smoke machine seems perfectly necessary. It's as cold inside the venue as it is outside, it almost feels like bonfire night all over again, minus the toffee apples and the pissed up teenagers kicking off with each other.
Supporting Beach House tonight are fellow Americans Lower Dens, fronted by Jana Hunter. On entering the building I had begun to have concerns about how the sound was going to wash in such a humungous and austere venue but in Lower Dens' case it seems to work a charm.
Lower Dens have an interesting take on drone rock, they sound like a halfway house between Yo La Tengo and Low with the added extra of a Krautrock influenced rhythm section, which is a good thing in my book. The spacey guitar wash of single 'I get nervous' ascends to a higher dimension in the Cathedral underpinned perfectly by a meticulously understated backbeat.
They don't have masses of stage presence and 'I Get Nervous' is probably an apt description of Hunter's approach to audience interaction but the music speaks for itself and in Lower Dens' case that's all that matters.
Now the moment we've all been waiting for, the arrival at the altar of Beach House. Opening with 'Gila' from their second LP 'Devotion', they appear to be up for it. Victoria Legrand thrashes her trademark auburn locks around to the music like a damsel in delight, the additional live members allowing her to indulge herself further in the medium of dance.
'Walk in the Park' and 'Norway' from 'Teen Dream' up the ante and are received well, however, there is a slight niggle in the back of my mind that live 'Norway' suffers slightly from the lack of extra studio layers. Then again, maybe it's the venue that's at fault here. What worked so well previously in accentuating Lower Dens' sound now seems to be losing Beach House a tad.
But sound is always going to be an idiosyncratic factor in a venue of these proportions, and at the end of the day, being here beats the hell out of being at the Academy. Luckily Beach House have songs in their back catalogue such as 'Zebra' which is so good that you could probably play it underwater on a transistor radio and it would still sound amazing.
It's pleasing to see that Victoria Legrand and Alex Scally don't appear to have lost any enthusiasm for the material they play night after night, despite their lengthy touring schedule. They return for the encores of 'Real Love' and '10 Mile Stereo' and Legrand utters every word with unflinching passion, poise and purpose.
Beach House's rise from Mill to Cathedral in less than a year has been meteoric and they are still in their ascendancy. For purely selfish reasons, I hope they don't get too big as I fear they might lose the thing that makes them so special in the first place.
Maybe the intimacy of their sound on record doesn't quite lend itself to being performed on such a grand platform, but it's still a memorable night regardless.