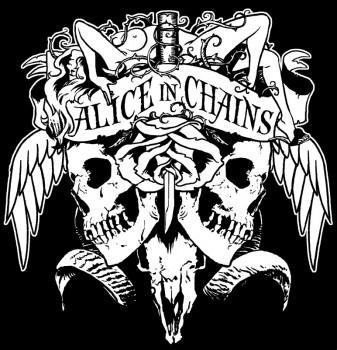 – ACADEMY 1, MANCHESTER –
Manchester Academy feels different since its refurbishment in 2008; cleaner, brighter, with a shiny new frontispiece. Alice in Chains re-formed in 2005 with new frontman William DuVall, after the death of lead vocalist Layne Staley. I'm looking forward to watching them, but like the new Academy, I'm prepared for the experience to be much more clean and professional. No-one could replace the dark intensity of Staley, and I can't escape the feeling I'm about to watch what is basically a top-class tribute act.
As the lights go down, and the impatient clapping gives way to cheers, the sludgey opening chords of 1990′s 'It Ain't Like That' kick in and it's clear Alice in Chains have no desire to leave their roots behind. The songs sound as fresh as they did 15 years ago, and all the doubt I had gets blown away. DuVall is magnetic and tells us "The louder you are, the louder WE are!" This takes the atmosphere up another notch and you can barely hear him sing over probably the loudest crowd I've ever heard. They play several songs from the Layne Staley era, and DuVall more than does them justice. Anyone who is missing Staley is missing the point, because this music is too good not to be played.
The band grab seats and acoustic instruments and we're treated to the sounds of their 'Unplugged' album. The performances are little different – technically stunning. The most moving part of the set is the title track of new album 'Black Gives Way to Blue' – a soft, melancholic song. A flickering candle on the big screen is accompanied by smaller flames in the audience. As the song dies out, and Layne Staley appears on the screen, the audience stand momentarily silent before erupting in applause.
Powerful renditions of songs old and new fill the final segment of the act. Looking at the crowd, few of them would have been old enough to see Alice in Chains perform the first time round – and I wonder whether they are here for the old or the new – but ultimately it doesn't matter, because what we get is a truly awesome show. DuVall finishes the gig by saying "This is only the beginning for us!" and after this performance, there is a lot more to come from Alice in Chains.