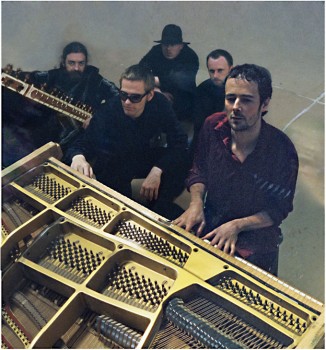 – THE DEAF INSTITUTE, MANCHESTER –
BY JASON BOARDMAN
Sat pondering the Institute of Joy which is the Finglands boneshaker No. 43 on my way to the Deaf Institute on a cold Monday evening in Manchester (not always the healthiest signifier for a gig), surrounded by the inane crackle of students heading to their next installment of Carnage UK, wishing I was deaf and they were dumb.
I manage to catch the end of opening act, Plank, who provide ample support and make a concerted effort to engage the meager audience with their polyrythmic spatial awareness.
DJ Balearic Mike supplies the Fascinating Rhythms prior to A Mountain Of One's tentative, low key entrance; their first song being rudely interrupted by an irritating bug on the soundboard. A look of slight nervousness purveys as the band ease themselves in with a loud instrumental cut from their latest long player.
The band are not at full strength this evening, having lost the talismanic aural exciter and vibesmith, Mo Morris, due to a Rio Ferdinand type back injury, though they thoughtfully save a space on stage for their missing compadre, he attends in spirit and the band's stripped down sound – sans electronic interference – is rawer and rockier minus his presence.
Lead singer, Zeb, channels the spirit of David Sylvian and sports the looks of a young Hugh Cornwell, and has a busy evening alternating between guitar, keyboard and vocal duties. He harmonizes beautifully with the delightful Femi on backing vox, whilst the rhythm section drive the performance and supply grooves that are tighter than Panacea's door policy. The second guitarist hides behind his flick, avoiding all possible audience contact, and engulfs the arrangements with high gloss picking and delightful distorted fuzz.
Laurel Canyon lyricism infused with prog and pop sensibilities, the essence of Goblin and even some baggy acid funk all appear in the band's expanding and attractive repertoire, and by time 'Ride' – one of the most exciting pop records in recent history – comes along, they have the audience eating out of their hand.
On the whole, a thoroughly enjoyable evening is had by all, performers included.