Arriving for the first time in Gorilla since its refit from the Green Room I am surprised and impressed at the rather cavernous space they've opened up towards the back of the building. With its curved archways, bare brick and cool décor it's perfect as a new gig venue.
Having already seen Savages, an all girl London post-punk four piece play earlier in the year at the Deaf Institute and at Electrowerkz in London I've got to say this is genuinely the most excited I've ever been about seeing or reviewing a band.
The hype around Savages is immense with record labels tripping over themselves to get a piece, but being determined to do things their own way have only released one single – 'Husbands' and one live EP – 'I Am Here' on Jehnny Beth's own label Pop Noir. A choice I highly commend.  Since their debut gig in Brighton, January this year the fans have been slowly drip fed material helping to build and maintain the hunger and desire to see them live if you want to hear more than a few songs on the internet.
People are drawing obvious comparisons of Siouxsie and the Banshees, Slits, Joy Division but for me although they have echoes of all of these, Savages are their own sound and performance. To understand you must see them live.
Opening with – 'No Face' you are immediately transfixed by Beth's intense stares out to the crowd, wild and feral at times.  I find it hard to look away feeling rather bewitched. A similar edgy excitement emanates from the people around me, there is a sense we are all watching something very special.
As the band go through their set, I realise more and more why I love them so much. With each song particularly 'City's Full' (my favourite), you can tell although the sound is very loud and at times fierce, each member of the band is an incredible musician. These songs are crafted, there isn't a note too much or a rift too far. It has been meticulously thought out and honed. The bond between them is evident. With a quick nod and smile they instinctively know what's next. Even a broken snare doesn't faze Fay Milton, who I think is one of the best drummers I've heard. The fact they have only been playing together since January blows my mind.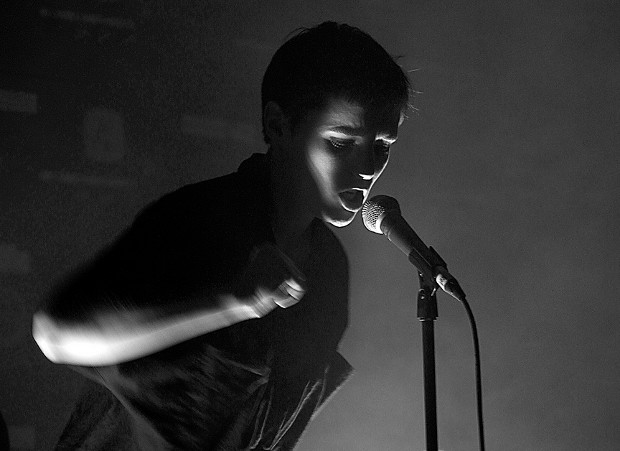 Being an all girl group there is an interesting play with gender, Beth has striking features, quite androgenous, dressed all in black with short cropped hair as does the guitarist Gemma Thompson. Somehow both still managing to exudes a deep feminine sensuality at the same time. Watching and listening to the lyrics of 'I Am Here' and the final song of the set – 'Husbands', it awakens an animalistic instinct in me, like anything is a possibility. Maybe its Beth's repetitive haunting shouts of faceless grooms which send me into a trance. Beth explores the darkness of human nature and desire. She writes about the taboos in the world but tries not to acknowledge the emotional battles we go through, ignoring our basic instincts' be it with love, hate, or violence because it doesn't fit within our 'moral' society. They do it intelligently and with skill and that is what sets them apart from all the other bands right now.
I leave the gig feeling exhilarated, with a band crush and thinking I have to see them again. And I will. If you haven't seen them live, make the effort next time, for once the hype around a band is actually well deserved.