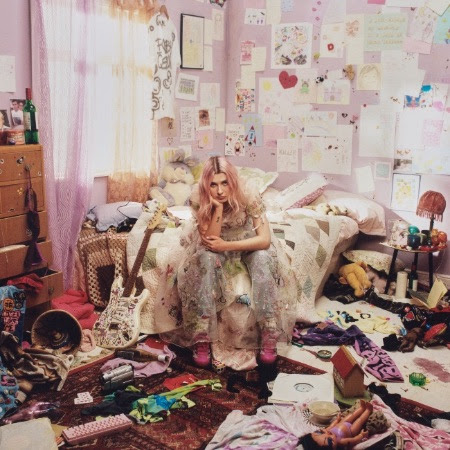 An artist as unique as Baby Queen is incredibly hard to find. From her lyrics, to her music videos, to even her stage name, it's all a bit out of the ordinary. However, there's no doubt she pulls it off, and I'd bet her nearly one million monthly listeners on Spotify would agree. Baby Queen, also known as Arabella Latham, channels everything into her music, with each song she makes becoming another to add to the soundtrack of Generation Z. With the release of 'Quarter Life Crisis' coming in quick, it's time to see what Baby Queen has been up to.
Already-popular track, with over 3 million streams on Spotify, 'We Can Be Anything', begins the album, clouding us with the happy-go-lucky atmosphere that is so prominent within Baby Queen's music. "We can be anything. That's awesome, don't you think?" instantly brings me to a peak of joy, with its upbeat synths only conserving the feeling. This sets up perfectly for track two, 'kid genius', which uses the cheerful vibe to sugarcoat the story of the stress that is adolescence.
It's fair to say I've never heard a song like 'i can't get my shit together'. The echoing effect used within the lyrics, along with the electronic beat and extremely stimulating chorus holds me captive under Latham's voice. Released on Youtube alongside a visualiser, the reaction to this track has already been insane, with fans naming it the "best song yet". Baby Queen knows how to impress her audience, and she's done just that with the few songs that have already been released.
With only one other album and a strong number of released singles, this musical genius has a huge audience wrapped around her finger, including everyone who has ever seen the Netflix show, Heartstopper. Finding her voice featured in most of the episodes throughout both series one and series two, including 'Colours Of You', which was written specifically for the show, it's clear that this series is held close to her heart.
The album's title track, 'Quarter Life Crisis', holds the position of the seventh song, and invites us deeper into hearing of the singer's troubles, which become more obvious through the proceeding tracks. Released on 8 September of this year, the accompanying music video holds over 100k views and features the artist in many seemingly troublesome situations. Laying in a disorderly bedroom for most of the video, it feels as though Latham is representing her chaotic and messy state of mind during her so-called quarter life crisis, before changing the scene to the singer being stuck in an eerily narrow corridor, drowned out by a red light.
'Die Alone' shows us a different side to the free and easy Baby Queen that we are used to, using her incredible lyrical ability to convey her concerns of not finding love in the world, regardless of others successfully finding their other half. 'Obvious' has the same mournful tone, but focuses on missing the ones you love, with references to friends and her father, rather than never finding love in the first place. Placing these two songs together on the album only exaggerates the effect of either one, making them even more heartbreaking to listen to. It's never easy to hear of someone else's struggles, but there's something particularly difficult in the backtones of these two songs.
A bold, yet soft ballad titled 'every time i get high' smoothly continues the new state of sorrow that has been present within the previous few tracks, using a doleful melody to tell a story of using narcotics to avoid the troubles that are only becoming more common in modern society. "I can't be sad if I'm blissfully unaware. I can't be sad if I'm too stoned to even care," completely twists the feel of 'Quarter Life Crisis' while also partly explaining the meaning behind the album's name.
'Quarter Life Crisis' is coming to a close, but not before the finale has its chance to raise the mood once again. Although track 12 is titled 'a letter to myself at 17', it feels like Baby Queen has used this to provide a meaningful message to her audience. Closing out the album with lyrics like, "Don't call them friends if they're only your friends when you're doing drugs," and "Try to be happy. You might be if only you knew that your wildest dreams came true," makes it inevitable for the advice to stick in the minds of many of her followers.
It's undeniable that this album has been an emotional rollercoaster from start to finish, but there is no unenjoyable second throughout the entire 12 tracks. Baby Queen has an extremely special ability when it comes to her musical creations, and it's hard to believe that this is only her second album. If a record full of masterpieces is what we get now, I'm incredibly excited to see what she does in the future.
Baby Queen: Quarter Life Crisis – Out 10th November 2023 (Polydor)