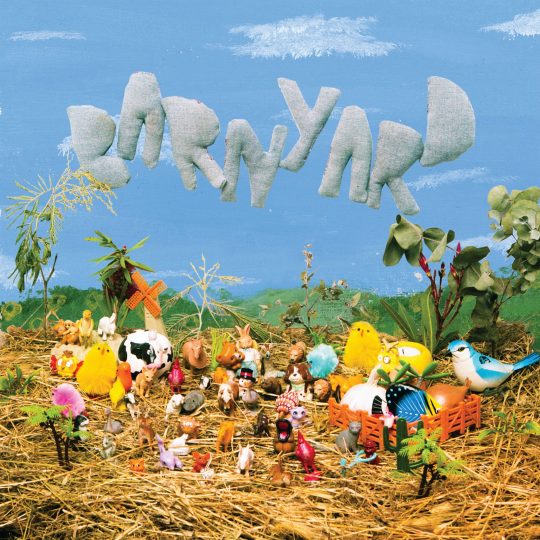 Good Morning is a two piece band from Melbourne, who are part of the indie rock revival movement occuring with other bands like Boy Pablo, Crumb and Yellow Days just to name a few. Their latest release 'Barnyard' is a laidback album, which feels as if you are listening to an intimate live session instead of a polished studio album – but this is part of the appeal of Good Morning. The easy going style of writing pulls the listener in and puts them at ease. No singular mood in this album stays the same. Movement is constant, with the album feeling like it is speeding through time instead of crafting a singular image of one particular time.
The album starts softly with 'Too Young to Quit'. Its opening lyrics, "where to begin," signifies an emotional journey, the song's melancholic dreamy synths making you fall into a dream-like contemplative state. This mood quickly shifts in the next track 'Depends on What I Know', with a driving guitar hook, capitaviting lyrics and an infectious laid back attitude.
'Wahlberg' is a strong track, which feels playful, like a dance to the confusion of relationships and the carousel of emotions that come with this. A distinct air of separation carries on here, the singer singing to himself, almost like watching himself in third person.
'Yng_Shldn' feels like an ode to the first track. Seriousness has entered. The guitar interludes almost feel like a response to the vocals, a bird call imitating his mood. I pictured this song walking solo listening to crushing leaves underneath your feet, floating in a daydream, neither happy nor sad, just a feeling of being present. Like walking home from a party and looking back at the night, but entering back into the real world of responsibilities.
Other strong tracks on this album include 'Matthew Newton' – where dissonance floats in the background of the track, which contrasts with bittersweet chords and gives a feeling of attempting to grip onto one's life while it is falling apart – nowhere to go but to keep going.
The last song on the album 'Country' feels like a culmination of all that was felt before. This song reminds me of the band Good Shoes – a teenage energy of hope and anticipation flows strong. This song feels like a love song to a broken friendship or relationship. All the grief has been worked through and now the end is here. And it is all the better for it, acceptance of what has been lost and living that. He cannot change, he has accepted that and he is relieved with this realisation that he can now move on. The strongest track on the album, a good finish to a great album, one you can listen to on repeat in a variety of moods and times of day.