Remember when Jamiroquai was cool?  Like, really… incontrovertibly….Antarctic chilly?  I remember the time of the first album, when those initial tracks began seeping through the PAs of the nightclubs I frequented in Sydney, where I was living at the time.  Those tunes sounded fresh – with great vocals, funky beds, an ecological sensibility and – well OK, admittedly, with the didgeridoo.  Even that made sense in an Australian context; more so when it's 5am on Bondi Beach and you're mashed off your banana.
Which brings us to the issue of that tricky 7thalbum, Rock Dust Light Star, Jay Kay's first long player in five years and his first for new label Mercury?  Recorded primarily at Jay Kay's own studio in his rather fine Buckinghamshire pile, it does basically sound like the output of the cat-in-the-hat sitting around his drum & bass, penning audio doodles and sonic noodles. Jay Kay is the Pizza Express of pop music.  It looks OK, tastes OK, but ultimately you only go there because you know exactly what you're going to get.  Let's be fair, he's not as low-rent as Pizza Hut but he is indisputably High Street in orientation.
At times, say on tracks like 'Two Completely Different Things', or single ''Blue Skies', you find your head nodding and your foot tapping and it's good – proper, slick funkage.  On others, however – step forward 'Hurtin'' and 'Smoke and Mirrors' – it's funk by numbers, funk faxed in, and that's not good enough.  The live vibe of the album does undeniably create a much more organic, analogue texture to the music, as compared to previous albums – and it's certainly inoffensive.  It's more that sometimes I prefer to be offended.
Ultimately it feels like an album that has had "new label" cash thrown at it: red hot musicianship, spicy soulful backing vocals… all the ingredients, in fact, for a Sloppy Giuseppe. £8.60 to you, guv – dough balls extra.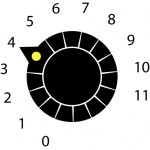 Release Date 01/11/2010 (Mercury)