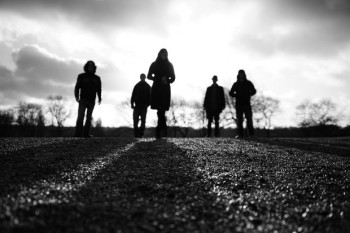 – LLOYDS HOTEL, MANCHESTER –
Lesson one on how to light up a place – get The Hymek Manoeuvre playing live. The last time I saw them they were playing at Beech Road Music Festival to upwards of 4000 people, spreading their feel good sounds from a large stage across a full field of mainly young punters who couldn't keep their hands and feet still. Last night they were in Lloyds Bar charming a wide age range audience with two one hour slots of upbeat indie/rock and apart from a couple of songs it was all their own material.
Over the last year, since they started playing together, they have gone out of their way to do live gigs to mixed audiences. After less than a few months together they were wowing at BBC Unsigned and were just nudged out of the regional final by a much more experienced group. But nothing fazes this 5 piece band. They're out to have fun and give the audience a good time wherever they are.
Emma C and Jack Williams are the vocalists, both with a strong range and voices that work well together, from Jack's mellow northern twang to Emma's almost operatic,
off-the-scale skill. Rhys Williams is the stylish drummer; Dan Williams plays bass like he was born with one glued to his hand and Yas Hamidi – co-song writer with Jack Williams – keeps his rhythm guitar surprising us. The songs are lyrical in the best sense and full of the sizzling passion that marks the band out from others who go through the motions. Jack Williams, who is also lead guitarist, wows the audience at Lloyds with his outrageous, imaginative lead breaks. You know when most of the males in the room are standing silently, imperceptively moving their bodies, eyes glued on the lead guitarist, that something special is happening.
Their album, Middle Ground, released last December has been widely downloaded on youtube and soundcloud and they have built up quite a following for their unique blend of rock, pop and the best of punk. Their energy and enthusiasm reminds me of post punk band, The Au Pairs and there is a convoluted family connection. The Hymek Manoeuvre are still evolving, creating constantly surprising material. I'll be surprised if they don't go all the way to the Sony Awards in the next few years. Listen to them now, go to their gigs and you can say you were in at the beginning of it all.
Review by Kate E Wilde
Genre: Indie/Rock
Location: Manchester, UK
Members: Jack Williams, Emma C, Dan Williams, Rhys Williams, Yas Hamidi
Website: http://www.thehymek.co.uk
YouTube: www.youtube.com/wartch?v=oM1KcK-fn.Jk
Soundcloud (free downloads available): www.soundcloud.com/the-hymek-manoeuvre