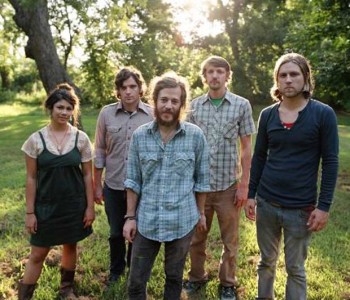 – THE DEAF INSTITUTE, MANCHESTER –
Oklahoma five piece Other Lives have arrived in Manchester once more in what frontman Jesse Tabish describes as 'one of his favourite places to play'. Promoters Now Wave and Hey Manchester have worked together on this one, spoiling the close to capacity crowd with the bonus of an extended support slot from Canadians Young Galaxy.
The venue is hot, temperature wise. Any evidence of Halloween has been left in the street as students drunkenly sing and stagger about in white bedsheets with holes cut for their eyes. The average age of the audience in here is slightly higher than what I'm used to seeing, the seats at the back have all been claimed in anticipation of a chilled performance by either band… or maybe just to allow the Sunday roasts to digest.
 Young Galaxy start shortly after I arrive, lead singer Catherine McCandless takes to the microphone looking somewhat 80's-like in tight black leather trousers and a baggy white t-shirt. The music resembles the fashion statement, with kick-snare-kick-snare drumming, octave hopping basslines and slow and clearly annunciated lyrics. Catherine convulses in a 'faulty robot' manor, hands raised claw-like either side of her head as she immerses herself in the music. The first three tunes are blended together, forcing the crowd to surpress their appreciation. A slow start, then the drum beat from the second tune continues but slowly ascends to a much higher tempo for the start of the third.
'Phantoms', from recent album Shapeshifting is dedicated to Tony Wilson and carries elements of Joy Division and A Certain Ratio. They finish the set with four-to-the-floor pounding dance tune 'We Have Everything'. Lo-fi synth sounds lap over each other under the crisp vocal; "In poverty, my love, we have everything".
The instrument changeover proves to be a trippy experience. Fans (mechanical ones) are switched on at the back of the room, which blow the green and blue ribbons that hang above the stage, as well as the long hair and beards of the musicians. The band take it in turns to play random notes following the sound engineers muffled instructions, which can be heard through the stage monitors over a soundtrack of haunting, repetitive minimal synth chords. Very 'David Lynch'.
The musical instruments on the stage far outnumber the musicians. Other Lives' Jonathan Mooney stands behind a xylophone, with his keyboard to his right, a guitar on a stand to his left, a violin on his left shoulder and a trumpet in his right hand… oh, and he sometimes sings. I check under the xylophone to see if he has cymbals attached to his knees. Jenny Hsu clicks things together with her fingers when she's not playing a cello and Colby Owens, sensibly, just sticks to his drumkit. Have they borrowed the copper kettle drum from S.Carey (of Bon Iver)? Bassist Josh Onstott seems to be playing that occasionally, as well as an accordion, though it's difficult to keep track.
The sound is perfect, audience members stand silently and just listen, occasionally turning to their friends with big grins on their faces. 'Old Statues' reminds me of an Ennio Morriconi Western soundtrack but breaks down into something like Pink Floyd. Things are getting serious, Jesse removes his cardigan during some friendly banter. The superb 'Desert' follows, using that kettle drum to build a rumbling beat under the light string arrangement. 'For 12', another cinematic, floaty masterpiece from the latest album 'Tamer Animals', employs economical piano interludes that drift effortlessly around the venue. This would've been a perfect time to switch the fans back on.
The band leave the stage so Jesse can play a solo version of 'Black Tables' from their self titled first album, with his keyboard. He jokes that this is a Philip Glass cover… and admits it was a terrible joke. The band agree when they return, though the rendition was superb. Despite their music featuring in US TV shows such as Grey's Anatomy and One Tree Hill, they seem to be a little strapped for cash. Jesse almost begs us to buy something from the merch stall so he can get a new guitar (the acoustic that he's wearing shows signs of repair)… otherwise, they might "have to remain in Manchester", an ultimatum which may have blown his sales pitch, but a thought that he seems happy with.
They finish with a cover of Leonard Cohen's 'The Partisan', the mood and arrangement fit perfectly and seamlessly into their set, which in itself shows what a great gig this was. The crowd listen intently and silently through each song, making the impact of applause and wooping even more startling, when the tune stops. Jesse and band stand like rabbits in the headlights when confronted with the raucous admiration and can't thank the crowd enough.