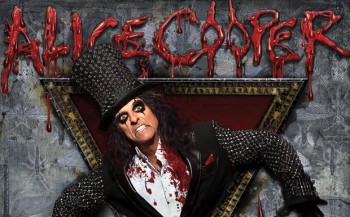 – THE APOLLO, MANCHESTER –
It's a gloomy Sunday evening in Manchester, but for the hundreds of fans queuing at the O2 Apollo, who've waited over a year for this night to arrive, they couldn't be happier. Following last year's outstanding Halloween gigs at London's Roundhouse, Alice Cooper finally brings his Halloween Night Of Fear to Manchester and if the reputation which precedes him is anything to go by, then we're all in for one hell of a show.
Supporting Alice on these UK dates, are legendary American punk band, New York Dolls, who do not fail to deliver. The audience seem a little subdued to begin with, but the New Yorkers soon have them eating out of their hand by the time they get to classics such as Jet Boy, Trash and Personality Crisis. As always, NY Dolls are wonderfully inspired and provide a fitting support for Cooper.
After a haunting monologue by the king of hammer horror, Vincent Price, the curtain drops to reveal metal icon, Alice Cooper standing on a towering pulpit. The next couple of hours is something of a blur as Cooper, backed by  a talented band, shows us why his reputation as a showman is so well deserved. Black Widow and Brutal kick off tonight's proceedings, providing the opportunity for his darkly humorous and surreal lyrical style. This is followed by one of his all-time classics, I'm Eighteen.
Cooper confidently strides across the stage twirling his cane, as he blasts into the biggest-selling songs from his 40 year career – Under My Wheels, No More Mr Nice Guy and Hey Stoopid. During Feed My Frankenstein the band are chased around the stage by a 12-foot Frankenstein's monster.
For the next hour and a half Alice Cooper and band run through hit after hit, with more cameos from blood thirsty zombies and other freakish creatures. Sparks fly,  cannons fire out glitter and showers of beach-balls fall from the rafters as the show moves from crescendo to crescendo, culminating in two encores which finish an explosive performance with School's Out, which merged into a cover of Pink Floyd's Another Brick In The Wall and Elected
After months of waiting, the few hours of tonight's show pass with a truly unjust speed, and the hundreds of sweaty fans pouring out into the night after the show can only hope for another Halloween show next year. Pure theatrical brilliance – just like a good old fashion rock show should be.