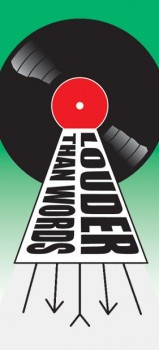 Aside from football, there are three things that Manchester does incredibly well; music, writing, and festivals. So, it's no wonder that the UK's biggest literary celebration, Louder Than Words returns for its sixth year November 9-11. The annual and beloved cultural event brings with it a plethora of knowledgeable music folk who are writing, making and willing to speak about the music which we know and love. Louder Than Words takes place over three days at the newly renamed and refurbished Principal Hotel (many will know this as The Palace Hotel) in the ever-expanding creative hive that is Manchester.
Over the years, audience and contributor numbers have more than doubled, which in turn has only increased the variety of talks, panels, and workshops programmed over the weekend.   This November the festival welcomes attendees from as far as San Francisco and Moscow to engage themselves in a perfectly curated weekend that includes panels, Q&As some very special performances from all four corners of the musical world: from club culture to heavy metal; ska to punk. Festival alumni are dripping with recognisable industry talent including Viv Albertine of The Slits, Hugh Cornwell of The Stranglers, Rick Buckler of The Jam and Alan Magee of Creation Records. This year we can expect appearances from Radio 1's Gemma Cairney, followed by the current bass player with Pink Floyd, Guy Pratt who will perform his one-man show The Inglorious Bassterd, with a selection of his stories about working with everyone from Michael Jackson to Madonna. The weekend also welcomes Rough Trade co-owners Jeannette Lee and Geoff Travis, who will talk with Louder's John Robb about the inner workings of finding the next 'big thing' and how they keep ahead of the game in finding new artists in such a competitive industry. We can also expect to see Zoë Howe talking about her Stevie Nicks biography, and Kevin Cummins discussing his photographs of Morrissey.
Saturday afternoon, Louder Than Words presents the Great 1970s Heavyweight Champion: Glam Rock vs. Prog Rock. We'll see Simon Philo, author of Glam Rock: Music in Sound and Vision make the case for the hairspray and makeup fuelled genre as the decade's undisputed, unifying champ. Is Prog Rock able to defend itself?  Daryl Easlea, author of the newly updated Without Frontiers: The Life and Music of Peter Gabriel will suggest why this complex music is the generations worthy champion.
It's been 30 years since the second Summer of Love and the festival have put together a very special panel of writers, DJs, academics and radio personalities to revisit the dancefloor and discuss Electronic Dance Music Culture and its impact on past and future generations. On Saturday evening, we'll see discussions amongst club scene radio presenter David Dunne and Dr Beate from Manchester Metropolitan University who has attempted to digitally record and archive the memories of the participants in this scene. We are proud to mention that this special panel on acid culture will be chaired by Silent Radio's own writer, Dr. Simon A. Morrison.
Sunday afternoon will be offering a chance to feel fourteen again with a special look at the reissue of 'Pin-Ups 1972-82: Ten Years Of Classic Posters From The Punk, New Wave And Glam Era', taking audience members on a visual treat of a tour through the posters that adorned our bedroom walls. Elsewhere, Louder Than Words are thrilled to welcome back the Slam Poetry workshop which involves students and writers as volunteers working together to arrange journalism workshops on everything from writing and getting published to making music, DJing and music law. The Wilko Johnson Writing Award will make an extremely welcome return, celebrating young music writers under 25.
The beauty of Louder Than Words, as ever, is that the festival offers individual session tickets so you can pick and choose where you want to be when you want to be there. However, by looking at this year's abundance of eclectic speakers, we are all a bit spoiled for choice, aren't we?