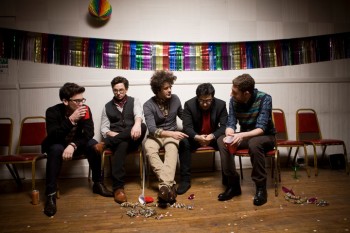 – ACADEMY 2, MANCHESTER –
The realisation crept up on me, and then hit me in the face with all the effeminate power of an 80s disco dandy. It all started when I fell head over heals over head for the original Kate Bush version of Hounds of Love. Then came a dizzying urge to play The Fleetwood Mac hits on repeat and tell all my friends about this peculiar revelation. Something was happening…but what? Finally Passion Pit came along. They became my band of 2009, and Manners my album. I found their indie sensibilities, their mixture of electronica and dance breaks ecstatically intoxicating, but my love for their focus on 80s style melody, alarming. I realised with horror that I was listening to the same pop music my dad played to me as a child in the late 80s, and that I had spent an age rebelling against. All that time as a socially retarded young adult spent listening to angry alt-rock had been an act of self-preservation, protecting me from the realities of being a kid who loved synth pop i.e. social exclusion. I loved the thing I had tried so hard to hate, and worse still I loved the same music as my Dad!
Still, it's ok now isn't it? Synth pop is in, Passion Pit are the best new band in the world by a shiny, spangling light year, and I can see them live tonight happy in the knowledge that I'm in touch with the music that I truly love. After all they could not be more 80s – I mean they were started as a Valentines Day project for the singer's girlfriend!
They seem nervous at first. Eyes As Candles is quietly received, the next is politely watched, and I'm mentally noting my usual complaint that Manchester's audiences are too repressed to dance, when eunuch-voiced vocalist Michael Angelakos dismisses his keyboard, faces the audience and they tear into Make Light. The scenes that follow for the next hour can only be compared to a malfunctioning cash point spraying money onto a high street on a Saturday. It's everyone's lucky day, and we're grinning like lunatics arm-outstretched to the band.
It's noticeable that Passion Pit are on that transitional stage between normal very day folk and pop gods. At times they are nice, polite boys (the kind your mother would like you to bring round to tea), and at others they are stars in every right – captivating, untouchable, unreachable, and amazing to behold.
This is especially when they combine it with their best tracks. The dance breakdown on Folds In Your Hands is irresistible, Let Your Love Grow Tall is euphoric, and everyone's favourite Sleepyhead is, well, very good. I have overplayed it.
The encore hits back with Moth's Wings, but when someone knocks out the main synth with a glass of beer, the sound is halved, and the crowd taunt the band through the silence. I suddenly feel that I'm here with a bunch of dick heads. Who throws a glass of beer at an electronic band? A man with diarrhoea for brains that's who. Passion Pit are obviously affected, but professional. They pay lip service to The Reeling, which should have been the climax, before sheepishly walking offstage. It's a shame that this has spoiled what can only be described as the best live performance within frazzled memory.