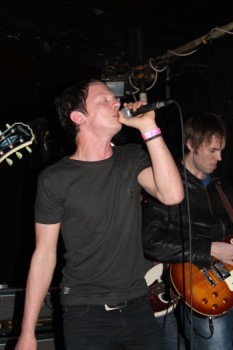 – NIGHT & DAY CAFE, MANCHESTER –
Tales of Owen Morris's eccentric behaviour during the recording of Exile Parade's debut album are fuelling my anticipation as I make my way to see them perform at the Night and Day Cafe.
Apparently, things took a confrontational turn during the sessions at Monnow Valley Studios, when the seemingly unbalanced Morris began aiming a disarming succession of screams, foul-mouthed rants and tossed recording equipment at the band.
Reading between the lines, it seems that the legendary producer of Definitely Maybe and A Northern Soul may be quite mad, but also incredibly clever.
The night before Exile Parade were due to unleash the product of this anarchic encounter live at Night and Day, I was handed a demo of the band's new album, Hit The Zoo. It's clear that Morris's targeted aggression and bad behaviour had the desired effect, creating a collection of songs that are snarling with fury and frustration. As I watch Exile Parade slowly liven up to the task of recreating this sound on stage, it's clear that not all the emotion Morris captured in the studio was manufactured.
Any band that has slogged away on the live circuit for five years like Exile Parade, waiting for something – anything – to happen, will testify to the feelings of desperation and bitterness that build up. All of this anger is now being channelled live on stage as the five Warrington lads grow into their set. Diminutive singer Lomax leads the way – hyperactively jumping around the stage like a possessed Jack-in-a-box. Guttural screams occasionally escape, adding a note of menace to his hybrid blend of indie, punk and old-school rock vocals.
Drummer Gary Mutch, bassist Dave Hennessy and his younger brother Phil on rhythm guitar help to feed the charge, while Chris Owen's spiky lead guitar dances around the beat before dealing the killer blow. The combined effect is like a wall of metallic rage, which is offset by catchy falsetto vocals to good effect on the funky opener, Moviemaker – a clear favourite for first single from the album.
The band are rattling through their set now. There's no time for chat. The hours of graft in the studio are paying off – with no sign of nerves or a moment's hesitation, their performance is tight. It's just a shame that the sparse crowd is struggling to feed off their energy.
That doesn't seem to bother the boys though as they speed into Get Your Gun Boy. The stand-out tune from Hit The Zoo translates perfectly to the stage. Starting off with a Johnny Cash-style rail-road rhythm, it moves along innocently enough before descending into a visceral rallying cry – a call to arms for a disaffected generation. By this point they seem to be lost in the moment, all that angst is being released. One snarling song melts into another as Lomax pogos in an angry trance, induced by his bandmates' screeching feedback.
As the set reaches its finale with the suitably in yer face Mach Schau, what had been a hesitant crowd is now well and truly on board, ready to join Exile Parade's confrontational march to who knows where.
Set list:
Moviemaker
Fire Walk With Me
Man Is Sick
Get Your Gun Boy
Hello Blue
Life Of Crime
Blindness
Mach Schau
● Hit The Zoo is due to be released in February on Suburban Records. Exile Parade's next gig will be at the This Feeling club night at The Vibe Bar in London on Friday, November 25.