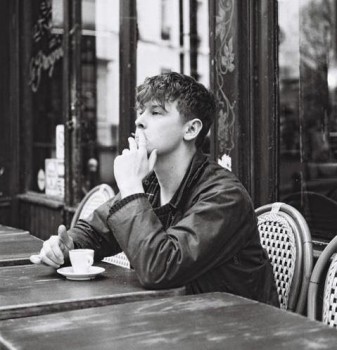 – THE DEAF INSTITUTE, MANCHESTER –
Taking to the stage with a four-man band, who Bill branded as "the most under-rehearsed band on the planet" on his Twitter page just hours before the concert in an unashamed honest use of social media, with no view to ticket sales. This unashamed honesty was soon reflected in his infectious 'cheeky chappy' persona, which was clear from the off tonight, making the curtains and bird-themed wallpaper of The Deaf Institute a perfect setting for the performance, as his confidence leads you to believe he could just as easily have been performing in his living room to family and friends.
Opening tonight's set with 'A Bad Wind Blows In My Heart,' which I am going to unofficially name Part 1, so as to not confuse with Part 2, which closes Bill's second LP, also trivially titled A Bad Wind Blows In My Heart, as if on a one-man mission to make reviewers' jobs harder, up and down the country. This newly-named Part 1 acts as a literary introduction to the album and performance, with Bill in his Wirral accent softly repeating the album's title over mourning guitar tones and clashing drums, as if musically introducing an audiobook.
'Hanging Song' comes next, casting the pre-text aside to pull us into the story; A lush combination of the exquisite chimes of the dusty antique-looking wooden piano, which is hidden away in the corner, and the gentle strums of Bill's guitar. This song  truly showcases Bill's singer/songwriter talents, highlighted most pertinently in the chorus, where Bill angles his head to croon thoughtfully "Hanging onto things will only hurt your heart,"  before the song drives to a harmonic crescendo.
A not-so-subtle swig of corona and we're launched into 'There's A World Between Us,' which is greeted with a large hush by a member of the audience to quieten down the gig-goers' worst enemy, the chatterboxes, to which Bill, in-fitting with his personality reacts, "They can talk if they want." This is a beautiful song where Bill seems to bemoan the trappings of England's class-obsessed culture and how it can undermine a relationship, singing "Take me dancing you / Said there's a world between us", before he dreams of an unlikely escape. "We could move to a country / Where the sea's are clearer" as if to a place not besmirched by this class-obsession. Here Bill reveals a side to himself which is a paradox compared to the joking jostling character we see in-between songs, he is a true switcher of modes, someone who is  obsessed with his music but still manages to retain that common touch which can so often be lost in musicians who see themselves as deep thinkers. And as if to confirm this thought, as the song finishes he says "I want to introduce you to my band. They are called Nonce."
As the band leave the stage for Bill to perform on his own, a plume of smoke is shot out of the unnecessary machine in the corner,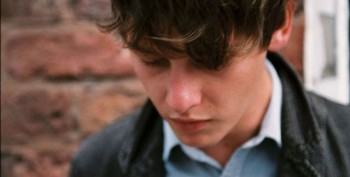 ironically transporting us from a living room atmosphere to an open-mic night in a grotty pub, as we just about manage to distinguish Bill's face through the smoke, while he plays the opening chords to 'By Morning I'… just him and his electric guitar, a rare sight. The talking which was hushed before, has now completely disappeared, the fans showing a silent respect as the song is rare and delicate and while it comes to a close, a polka-dot light is shone on stage as if highlighting his vulnerability.
He stands alone for two more songs, the first of which is 'You're Getting Like Your Sister" where he warns us before that he might "Fuck it up," however it rolls seamlessly, making the lyrical anecdote about fancying a girlfriend's sister seem more romantic than seedy. The next song of the duo is one that didn't make it on the album, and just a moment into it his voice breaks, squealing, to which he calmly jokes "There's my balls" just enamouring ourselves to him, sweeping the imperfections under the carpet. This song ends with a luscious a appella, a perfect end to this trio of songs where he has stood alone, an intimate thread within the concert, which will be cherished for some time to come.
With the band back on, that vulnerability highlighted by the polka-dot light is relinquished as 'He Took You In His Arms' reveals a passionate side of Bill we have not seen before, shouting "No one ever says the things they're thinking" with an anguish in his voice. This is another song about failed teenage love, telling the tale of a boy finding a coveted girl's 'homework in the park' while a love rival takes her in his arms.
After Bill challenges us with a brief intro-round a la Buzzcocks, we enjoy the highlight of the night, 'Anthony and Owen' a song, which tonight sounds like it could have been dreamt up by dockworkers hundreds of years ago, with the mournful piano swaying slowly like waves, before the song slows to leave Bill to sing "We walked the shores and back again" in-keeping with the ocean theme. The chorus here is mournful with a rasping drum combined with the lyrics "We took shelter from the storm and shone torches out to see", seemingly explaining an unbreakable bond out-at-sea, which soon evolves into a heartfelt "La,la,la, la" as if all the dockworkers are joining in, before haunting moans of the guitar seem to channel the strong winds faced out-at-sea as the song comes to a close.
Tonight, we finish as we started, but this time with 'A Bad Wind Blows In My Heart Part 2.' This version is more piano-based and has more to it than the simple repetition of the song's title, heard on Part 1, ending with a beautiful coda, in which Bill questions "Will happiness come at last?"
It is fitting that tonight we finish as we started, it goes some length to explain Bill's personality and the way in which he plays his music; Tonight there are no flicks, no surprises. He plays the songs as they sound on the album, and the jokes and blemishes along the way just add to the obscene perfect imperfection which ran so incredibly smoothly throughout tonight's performance.