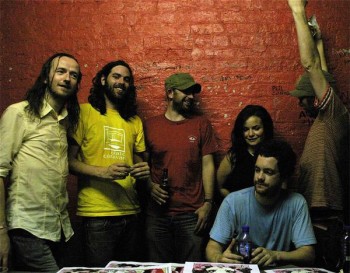 – BAND ON THE WALL, MANCHESTER –
Tunng return after an interlude of nearly three years to perform at Band on the Wall,  as they are promoting their widely reviewed new album Turbines. Known for their mix of upbeat polyphonic folk, complemented with electro keys and multi-part harmonies; they're not quite Full-folktronica but they're still quite a fancy Transformer.
The venue is populated by a diverse mix of heathens of all ages. Maybe I am just pining after the final gasp of the summer but the band have a 'festival feeling' although, disappointingly they were not actually at any UK festivals circuit this year. The stage at Band on the Wall is somewhat small which they comment on, they give all the indication they're keen to get down and gyrate but can barley extend into lunge.
Placating the thirst of the audience, Tunng play a mix of old and new songs, between which keyboard player Martin Smith fills with soundscapes elicited by an array of instruments and a collection of items which include an Indian singing bowl, bells and chains. I hear 'past-the-post modern' whispered into some other ear. Their live performances are refreshingly different to their recorded music; more dynamic and it isn't the egocentric trip which some bands endure when they realise they're appreciated. The bass has more prominence and the incredibly talented drummer Simon Glenister plays with greater enthusiasm and variety in how the beats are created. I lead myself to believe this all encouraged a less introspective audience.
As performers, they are dynamic, relaxed and perform with a high degree of command over their instruments, yet they bring a real sense of humour and gusto to the way in which they play – one that many try to attain. Incidentally they roll out the robot dance which quickly bends into what can only be described as 'my hands are mackerel'. Within the English folk scene, Tunng are a relatively progressive band, whilst not at the outer edges of musical exploration they succeed in both producing music and performing in an original way. They finish us off with 'Bullet's, a song laced with the lyrics "Your words are gelignite" which I'm not entirely sure is a good thing but we dance anyway.  Take heed UK festivals; this band is part of a great formula yet to be fully realised.