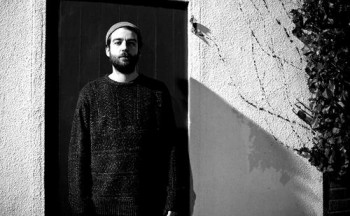 – THE DEAF INSTITUTE, MANCHESTER –
Daniel Woolhouse aka Deptford Goth, is a downbeat kinda guy. Cut from the same cloth as Active Child, How To Dress Well and Perfume Genius, he makes what I've come to term as 'mopey RnB'. And lord knows, I like me a bit of mopey RnB. I saw him described as 'Bon Iver remixed by Jamie xx' once, and that description is pretty apt. He makes music that talks about longing and not belonging, to minimal electronics, and he has a wonderfully wounded voice that tugs at the heartstrings every time he opens his mouth. Indeed, Woolhouse is a man who wears his introverted heart on his sleeve through his music, someone who I imagine has no other way to talk about his pain and grief other than through his music.
His understated demeanour is amplified in the way he just shuffles onto stage after the impressive support from Great Waves, to sit behind his keyboard and Korg synth, accompanied by cellist Rose Dagul (who doesn't actually feature on his debut album Life After Defo, but adds an even more wonderfully wistful edge to tonight's proceedings). What follows is a beautiful hour or so of one man (and his cellist) pouring his heart out over gloriously minimal, melodic post-RnB goodness, akin to watching someone uncomfortably tell you about the breakdown of every relationship they've ever had over a bottle of bourbon. It's so raw that even the impressively assembled crowd can't bring themselves to stand too close to the stage – there's a comfortable buffer between the front row and Woolhouse, probably so they don't have to look him in the eye when he sings.
Woolhouse seems genuinely moved by the size of the crowd who hang on his every word (except a couple of incredibly rude people
near the bar who talked through the entire set with their backs to him – seriously, why pay good money to do that?!), especially as he says "We played to about 15 people in Leeds last night, so this is good," to which a member of the audience responds "Leeds is shit" to rapturous applause from the rest of us. Most songs take the form of stark, minimal drum beats accompanied by Woolhouse's stunningly damaged vocals, keyboards and the afore mentioned cello (I'm a little in love with Rose Dagul, she's pretty amazing). 'Life After Defo' is stunning, the repeated refrain of "too far in to be undone" prompting pools of tears to form in my eyes as memories of relationships past spring to mind – it might sound twee, but he can really do that to you. 'Bronze Age' pulls a similar trick, as Woolhouse sings over clanking percussion and looped vocals of himself about 'having a good time, in a sense, then we'll let it go'.
It's not all sad times though; 'Feel Real' is positively euphoric, with it's twinkling synth lines and talk of 'dancing like nobody's watching', it's probably the highlight of the night. It gets the whole crowd moving, and after being so moved by what has come before, it's kind of an icebreaker, a chance for everyone to dance like nobody's watching…ok, not quite, but there's a fair bit of shuffling going on. When Woolhouse and Dagul return to the stage for one more song in the guise of an encore, he says "This is a real quiet one" as Dagul mimes zipping her mouth shut like a teacher in a noisy class, and the crowd, even the annoying talky couple at the bar respond with pin-drop silence as Woolhouse sings one more lovelorn song to a bewitched crowd, captivated by his incredible performance. We depart into a mild October night safe in the knowledge that we've seen a magical show tonight, and glad that men like Deptford Goth exist to make it acceptable to wallow in beautiful melancholy once in a while.

Deptford Goth  Official | Facebook | Twitter | Soundcloud