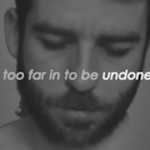 South Londoner Daniel Woolhouse sees his music as, "sitting somewhere between real and synthetic", but the emotional impact of his alter ego Deptford Goth is about as human as it gets. Imbued with an intimate, intense, yearning melancholy, perfectly matched to a seamlessly woven 'scape of synths, beats and atmospheric vocals, new track 'Life After Defo' confirms the arrival of an astonishing new talent.
The promise was all there in the Soundcloud preview "People Get Still" and his debut EP Youth II, released by Merok Records. "Life After Defo" – the title track from his forthcoming debut album, due early 2013 – is a heavenly leap forward, with more lush detail and aching space and Daniel's vocals lifted higher in the mix.
But who is Deptford Goth? We know his real name, age (28), the colour of his eyes (blue) and that he worked as a primary teacher's assistant before committing fully to music. He's already turned out remixes for Purity Ring, Blood Diamonds and S.C.U.M. and his talent extends to making the video to "Life After Defo" himself. He has been compared to James Blake in that electronically tweaked zone where synth-pop, R&B and soul meet; whilst lovers of The xx may recognise a kindred spirit. But the haunting electronic soul of "Life After Defo" feels very different to both, and three times as heartbreaking.