Some gigs are difficult to write about. The band turn up, they fly through their set sounding exactly as they do on the album, and then they walk off and do it again somewhere else. Bo Ningen are not like that at all.
'Psychedelic Japanese rock band' is another genre that I can now happily cross off my list. These four fellas from Tokyo and there abouts met in London, and have taken the capital by storm. This month, they unleash their exuberance on 20 other lucky UK cities. Smaller towns might not be ready for them yet.
Each band member has jet black waist length hair, making lead singer and bassist Taigen, and lead guitarist Yuki, look rather feminine… or maybe it's their full length dresses? They launch into their first tune, after the crowd has had a chance to discuss the costumes. A mess of loudness grabs everyones attention before it breaks down into something like Steppenwolf's 'Born To Be wild', but with high-pitched Japanese vocals.
Their energy is infectious – some stare in amazement at what they are seeing, while others who are more under the influence let themselves go and attempt to mimic the bands antics. Taigen largely repeats one note for a few bars, allowing the other two guitarists to go nuts and take it wherever they want to go. His dress is all black, and when able, he claps his fingers and thumb in mid-air around himself, as if trying to catch moths.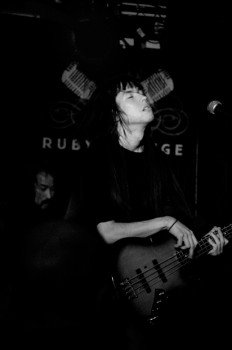 Yuki occasionally breaks out into a rather dangerous and violent frenzy, reminiscent of a Street Fighter character, if you press all of the buttons at once. Together they could be compared (musically as well) to The Mars Volta. It's a masterclass in stage presence.
The second tune builds momentum after the eye opening opener, creating a perfect platform for the gargantuan monster that is 'Henkan' (title track of their recent EP). The vocals are layered to create a rapid mess of words over a 4/4 snare beat and simple guitar riff, before they launch into a beat heavy experimental explosion of 70's excellence. There's hair everywhere. It's actually so awesome, all I can do is stand wide-eyed with a huge grin while the hairs on the back of my neck stand up.
'Koroshitai Kimochi' from their self-titled debut album starts slow, but the BPM builds to a warped police siren guitar sound and unique vocals, almost like Mark E. Smith on helium.
Somewhat out of breath, they thank the venue for having them, they thank the crowd for coming along and  promise to be back, and then slow things down for the first time tonight (the penultimate tune). Admittedly, it does sound quite cheesy, but a breather is needed in preparation for the finale… 10+ minutes of all of the above, culminating in an impressive wall of noise, held together by some superb, improvised, explosive drumming.
If you're not dying to see them live after reading this, then I have failed. Buy a ticket for their next gig, right now.