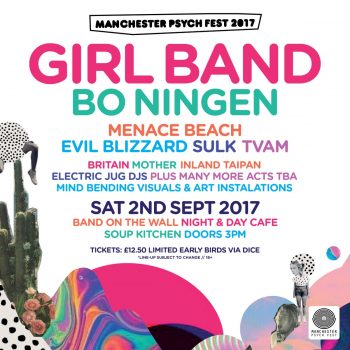 One of the most thrilling live bands on the psych scene, Girl Band, headline Manchester Psych Fest on Saturday 2nd September 2017.
Spread across three leading Northern Quarter venues – Band on the Wall, Night & Day Café, and Soup Kitchen, this year sees the largest Manchester Psych Fest yet, with a line-up boasting Girl Band, Bo Ningen, Menace Beach, Evil Blizzard, Sulk, TVAM and more. The all-day event will host an array of DJs, including the Electric Jug clan and will feature for the first time, a very special AV display.
More artists, DJs and happenings will be announced shortly. Tickets are on sale now, with tickets priced at £15 via dice.fm. All tickets grant access to all three venues.
Line-up:
GIRL BAND / BO NINGEN / MENACE BEACH / EVIL BLIZZARD /  SULK / TVAM / BRITAIN / MOTHER / INLAND TAIPAN / ELECTRIC JUG DJs + many more TBA
Manchester Psych Fest Facebook