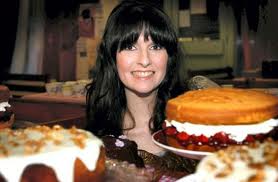 – THE RUBY LOUNGE, MANCHESTER-
On arrival outside the Ruby Lounge on this busy Saturday lunch time in the city centre, it is strange to see a queue of parents and children waiting for the shutter of the venue to arise. The reason for this is the new child friendly Mrs Boon's Cakes and Tea Party which is now held every week.
Whilst waiting in line you can see bemused looks on the faces of the passing shoppers, as to why so many people would want to take their offspring to one of Manchester's smallest and best venues.
When I get to the bottom of the stairs after paying a measly £2 (children are free by the way), I look around to see that the place is barely recognisable. The main part of the venue where the bands normally perform has been curtained off and is for today an area for prams and buggies. The rest of the bar area has been transformed with small wooden tables and chairs laid out with gingham table cloths. On one end of the bar there is a huge urn containing free tea with china cups and saucers, just like the ones your grandmother used to save for best. At the other end of the bar is a table all laid out with cakes and muffins, all at the very tasty price of £2 a slice. 
It is now around two o'clock and the place is teaming with adults and children. Standing at the end of the bar and looking out, it reminds of the Christmas parties that the local British legions would throw back in the seventies. To add to this, there is a small makeshift stage with a simple P.A.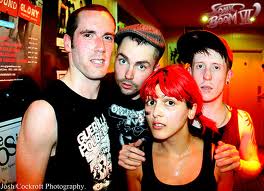 Providing the eclectic music this afternoon is Mr. Boon, who is using two old fashioned cabinet portable record players with a microphone placed in front of the built in speakers. After a couple of cake decorating workshops for the kids, Mr. Boon takes to the stage to announce that Mrs. Boon sends her apologies for her absence, as she is stuck at home with morning sickness. After this he introduces the first act to take to the stage. Now normally you might expect that this type of affair would include entertainment of an old drunk magician or one of those clowns that has a slight hatred of children. This is most certainly not the case here, as we are given a short but sweet set by Mancunian skanksters Sonic Boom Six. During their set many of the younger kids can be seen being bounced around on their parent's knees and many of the older ones are stood right up front loving every minute of the up-beat sounds they are hearing. After the set has come to an end, I see that a there is a newly formed fan base requesting autographs from singer Laila K, to which she happily supplies. 
After a break with more tea swilling and devouring of cakes, there is enough time for another cake decorating workshop until Mr. Boon again takes to the stage which is now set up with two wooden chairs. We are informed that there is a bit of a special treat and it would seem that most of the today's attendees are ready and waiting for this now not so secret performance by one half of Franz Ferdinand.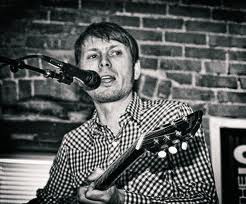 The floor in front of the stage is now packed solid with children and few adults all sat crossed legged and well behaved as if they are at morning assembly awaiting a frosty headmistress to arrive. When Alex Kapronis and Nick McCarthy manage to take up their positions, with nothing more than an acoustic guitar each, the crowd give out a massive cheer. You can see on their faces that this is an oddity to them, but they seem to be strangely comfortable with it. 
To open this afternoons surprise set is 'Do You Want To' and the onlookers of all ages love every minute. After this is the slower 'Walk Away' and even though Nick has broken a string in the first few minutes, this does not detract from their unplugged sound. During 'Take Me Out', the whole crowd clap along as if at some boy scouts jamboree. 
The last two of their set are 'Matinee' and 'Ulysses' and they have given everyone a great short performance that I doubt many of the grown ups or their little ones will forget in a hurry.