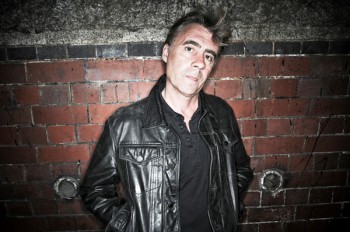 – THE RUBY LOUNGE, MANCHESTER –
" The last time I was here, I played with the Pistols at Manchester Arena, woo-hoo!" jokes Matlock
Tonight's rare show finds Matlock – still wired and trim at 53 – alone on-stage in front of an audience of just 22 people. Well 25, if you count the sound guy, roadie and glass collector.
Where was everybody? Surely anybody who is a fan of the Sex Pistols would want to see Glen Matlock. He is a legendary punk figure who formed the Sex Pistols and wrote most of their best-known songs. Still, the lack of audience didn't affect his performance one bit, which rocked from start to finish…well, as rocking as it could be for an acoustic set. Matlock's forte has always been the passionate sincerity and charisma with which he delivers his quirky musings and he remains a scintillating, unpretentious performer.
A blast through Ghost's Of Princes In Towers – from his days in The Rich Kids – sees him swinging his guitar around like a young Elvis Presley, his vocal delivery on fine form. He is equally vital reinventing Sex Pistols classics, such as God Save The Queen and Pretty Vacant, which got the small but passionate audience singing.
There is a big heart beating in Matlocks solo songs, as evidenced by the deadpan wit of Born Running, a song about his life. The end-of-set ovation by the small crowd leaves him amused and smiling from ear to ear.
Glen then performs an excellent rendition of Small Faces classic, All Or Nothing. It's a fitting end to a moving evening with this most human of punk rock performers.
So never mind the lack of audience, this gig was the true bollocks!