Each week, one of our contributors will recommend an artist/band they think deserves to be brought to your attention. No record labels, PR companies, bands or bands management will ever have made these recommendations. It is simply one music fan putting their taste on the line in the hope of sharing good music. The questions are intended to give just a basic introduction to possibly your new favourite artist/band.
So without further ado, let's crack on with this week's introduction, in which Silent Radio's Ian Burke recommends Ninetails for your audible delectation.  
*******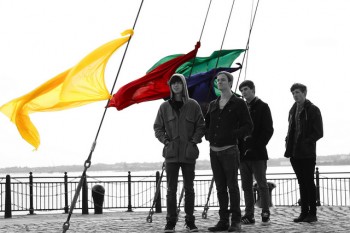 Who are ya?
We are Ninetails. Like the whip, not the Pokémon.
Where are you from?
Individually, we are from the four abstract corners of the world; Washington DC, Durham, Chester and Stoke. But today we are based in Liverpool. L7 represent.
How long have you been doing what you're doing now?
Ninetails is nearly one year old. We formed at Christmas last year, and started writing and recording soon after. We've only recently started gigging, but we've managed to get some pretty sweet support slots including with Dutch Uncles.
Is being a musician your full time job? If not, what is?
We're all students studying Music at LIPA, Jake studies Audio Engineering at SAE. So I'd say we were semi-professional. We get paid jack shit.
How would you explain your sound to someone's 90 year old grandmother?
Modern Skiffle.
Are there any obvious influences in your music?
Honestly our respective tastes are so different it would be hard to say. However, we do find some common ground over Afrobeat. And Afroman.
Are there any not so obvious influences in your music?
Arthur Russell and Shuggie Otis are two classic influences. Also Geoff Farina's Karate and the tonic wine Buckfast.
Apart from yourself of course, what band/artist would you recommend our readers check out?
Liverpool spaz math rockers Vasco da Gama are worth a look. As are Cyril Snear (read Cyril Snear's Who Are Ya? here, includes free download) , who's album is greatly anticipated and Trojan Horse of course purveyors of noveau prog.
Best place for people to find out what you are up to?
www.facebook.com/ninetailsband is always monitored and updated.
Anything to declare?
"I have nothing to declare except my own genius" would have been succinct, except we have a ton to declare.
We're playing the Label Love fundraiser at the Ruby Lounge in Manchester on the 21st of October. Come on down it's for a good cause. We're also gracing the fine city of Manchester again on the 3rd of December with Wot Gorilla? at The Castle Hotel.
http://www.facebook.com/event.php?eid=216029728457160
http://www.facebook.com/event.php?eid=271271899562021
We've also just announced a date in Liverpool with Three Trapped Tigers. Info on our Facebook. Peace out broscouts.