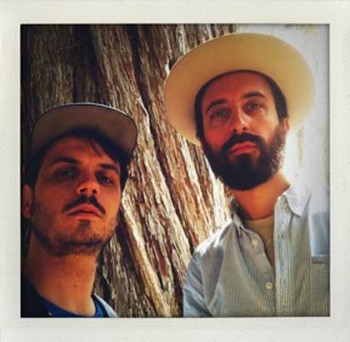 Herman Dune have announced the second single from their latest album Strange Moosic. The French duo of David-Ivar Herman Dune and Cosmic Néman follow their first single 'Tell Me Something I don't Know' with 'Be A Doll and Take My Heart', an upbeat pop ditty fuelled by acoustic guitars, David-Ivar's distinctive vocals and fun-filled "oohs".
David-Ivar wrote this as a love song, despite the fact that he started writing it after reading Deuteronomy 33:6, in which Moses blesses Reuben and says "May You Live And Not Die". In context this might have been some kind of admonition but David-Ivar saw it otherwise and thought it was a wonderful thing to say to a loved one. Using the line as a starting point for the song, David added his favourite things to tell a woman you love, including the expression "Be A Doll", which ended up being the title and the chorus of the song. As he explains: "Giving your heart to someone is a big deal and I felt that asking a girl nicely to "Be a doll and take my heart" balances out the wish that she would live and not die and the possessiveness of "May you never love another guy".
Recorded in Portland, Oregon at Type Foundry Studios (The Decemberists, Dirty Projectors, M Ward), the song's structure was based on four chords being played sitting down, reminiscent of Kurt Cobain's guitar-based songs like "Polly" or "On A Plane", and was embellished with sweet backing vocals by local Portland artists Sean Flinn and Rachel Blumberg.
OCTOBER TOUR DATES
15th Manchester, Islington Mill
16th Glasgow, King Tuts
17th Leeds, The Brudenell Social Club
18th York, The Duchess
19th Sheffield, The Hawley
20th Cardiff, SWN Festival
21st Birmingham, Academy
22nd Rough Trade Instore  12 noon