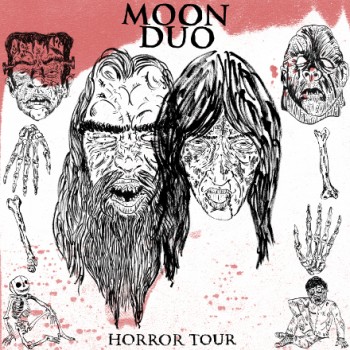 For their loosely Halloween-themed EP 'Horror Tour', Moon Duo veer away from the sun-drenched tone of their recent LP 'Mazes', and towards driving themes from an antique book of spells they discovered at a library sale in rural New Hampshire.
Three of the four tracks are instrumental – the titular 'Horror Tour' is the exception – and the record as a whole is characterized by long, meditative explorations that build to a slow burn.
It will be released on limited edition (1000 copies only) 12" vinyl with artwork by the infamous Savage Wolf and will be available on Halloween through Souterrain Transmissions. Copies will also be available to buy ahead of official release on the band's European tour – see below for details.
While the duo of Wooden Shjips guitarist Ripley Johnson and his partner Sanae Yamada wrote and recorded at home in Colorado, they reunited with the folks at Kaiku Studios in Berlin for mixing and it was mastered by Cooper Crain of Cave.
'Horror Tour' Tracklist:
1. Horror Tour
2. Causing a Rainbow
3. Sickener
4. Circle of Evocation pt. 2
European tour dates:
08.10.11 Germany, Berlin, Festsaal Kreuzberg
09.10.11 Germany, Leipzig, Central Theater
10.10.11 Germany, Munich, 59 to 1
11.10.11 Czech Republic, Prague, Club 007
12.10.11 Austria, Vienna, Rhiz
13.10.11 Hungary, Budapest, A38
14.10.11 Croatia, Zagreb, KSEt
15.10.11 Serbia, Belgrad, Cultural Center Grad
16.10.11 Slovakia, Ljubljana, Menza pri koritu
RELEASE DATE OCT 31ST
LABEL: SOUTERRAIN TRANSMISSIONS
www.moonduo.org ● @moonduo