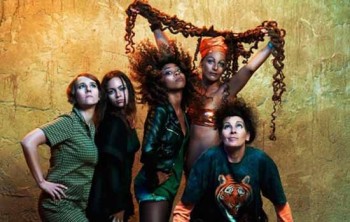 – THE DEAF INSTITUTE, MACHESTER –
Ari Up looked magical, yet slightly kooky as she confidently bounced onto the warmly lit stage. With her eyes blazing beneath a huge shock of dread-locked hair that would make Heather Small weep with envy and wearing figure hugging gold lamé hot pants and tatty bomber jacket, the 50-year-old singer resembled one of those scary bounty hunters from Mad Max.
Accompanied by original Slits bass player, Tessa Pollitt and new recruits Hollie Cook (daughter of Sex Pistols drummer Paul Cook), Anna Schulte on drums and Michelle Hill on guitar, the band kicked off with new song Trapped Animals followed by their classic cover of Heard It Through The Grapevine.
It's been just under a year since The Slits last performed on a Manchester stage, but many years since Ari Up's been the punk princess of all she surveyed. Still, time has done nothing to diminish her star quality. Stepping out to promote their first full length release in over 25 years, Trapped Animal, The Slits performed a blistering set, laced with punk rock guitars and dub reggae bass.
It did seem like a watered down version of the band at times, mainly due to the notable absence of original members Palmolive and Viv Albertine, as they navigated through old favourites including Shoplifting and Newtown.
A sequence of songs from their first full length release in over 25 years – Partner From Hell and Cry Baby – took her into fresh territory without straying too far from the familiar template. Ari invited one slightly bemused drunk audience member to gyrate with her on-stage during Lazy Slam, while Babylon was marked by the swoops and swirls and jungle tom-tom beats that have always been a key element of their musical signature.
With the new material honourably dispatched, the band blasted through their best known song, Typical Girls.