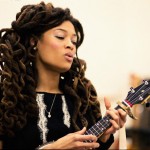 Valerie June's debut single, 'Workin' Woman Blues', unfurls the story of her self-styled "organic moonshine roots music", a warm mix of aching vintage country, gospel and powerful delta blues, it's as if Bobbie Gentry fronted a Stax soul-revue, her mesmerising vocals telling it how it is.
Born, raised and honed in Jackson, Tennessee, the self-taught musician has paid her dues working hard and playing hard – on the various instruments she has collected over the years, teaching herself her craft. Her debut single 'Workin' Woman Blues' is the perfect introduction to Valerie's work and history, a musical biopic depicting the journey she had to take to get where she is now.
"I feel I've spent my life pushing against a stone," she says. "And the jobs I've had have been fitting for getting a true feel for how the traditional artists I loved came home after a hard day to sit on the porch a play tunes until bedtime." Valerie brings definition to the words 'starting from scratch' and proves that good things do come to those who wait after being spotted playing in France by Rob da Bank's stellar boutique label Sunday Best, home to David Lynch, The Cure and Kitty Daisy & Lewis to name a few.
Working with Dan Auerbach (Black Keys) and Kevin Augunas (Edward Sharpe & The Magnetic Zeros, Florence & The Machine) and recording at The Black Key's Easy Eye Studio in Nashville, the team have really managed to capture the mixture of blues, folk, gospel, bluegrass, soul, Appalachian and stunning vocal peal of the country delta-blues she's inspired by.
Being released on Sunday Best, Valerie June's Workin' Woman Blues will be available from 19th November on heavyweight 7" vinyl & digital download with her full-length debut Pushin' Against A Stone planned for early 2013.