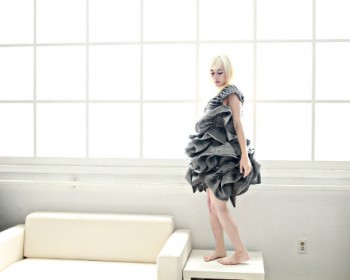 Zola Jesus releases the first video from her new album, Conatus. Directed, as always, by Jacqueline Castel and filmed in the New Mexican desert, Vessel  shows Zola Jesus in dramatic form.
Inspired by the Sphinx moth, who passes through metamorphosis in underground chambers and whose natural habitat is the desert, Castel explains her work:
"In Vessel, science fiction, wave phenomena, and the abstracted metamorphosis of the moth life cycle are visually manifested in the surreal landscapes of underground mineral caves and icy, remote dunes. Themes of duality and transformation weave throughout, with Nika's own voice revealed as vibrational patterns in water through the microscopic observation of Cymatics."
The Vessel video follows an exciting summer for Zola Jesus, who made her UK festival debuts with shows at Bestival, Field Day and End Of The Road ahead of a stunning, sold-out headline set at London's Toynbee Studio to celebrate the release of the album.
Following a full US headline tour that includes a CMJ date in New York on Oct 19th, Zola Jesus will return to the UK in November for a trio of headline shows, where she will be joined by her Souterrain Transmissions label-mate, EMA.
NOVEMBER DATES:
23rd LONDON, Heaven (with EMA & The Quietus DJs)
24th MANCHESTER, Academy 3 (with EMA)
25th LIVERPOOL, Kazimier (with EMA)