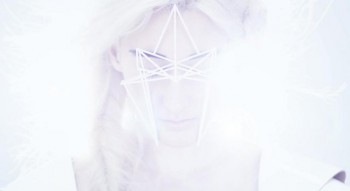 Since her last trip to the UK for her November tour last year, Zola Jesus has continued to surprise and inspire her fans. Providing guest vocals on an Orbital track, an orchestral performance at New York's Guggenheim Museum, and most recently an appearance on US talk show Conan accompanying hip hop artist El-P, 2012 has already been a busy year for her.
Now, with a one off UK festival performance closing the i-Arena stage at Latitude Festival this Saturday July 14th, Zola Jesus has uploaded the unexpected new video for the track 'Seekir' from last year's album 'Conatus' (out now on Souterrain Transmissions).
The video, which as with all Zola Jesus videos, was directed by Jacqueline Castel, sees Nika Roza Danilova taking on a much more conventional choreographed pop video concept and morphing it into something of her own.
Castel explains her vision; "I've always loved how Nika embraces both the avant-garde and bubblegum pop with Zola Jesus, and wanted to find a way to explore these dualities in her music and merge the worlds of the experimental and the mainstream."
"An apocalyptically-tinged pop song, emotionally visceral yet danceable, seemed to present the perfect opportunity to explore dichotomies, which would be echoed in the all of the video's creative departments for Nika's look."
Inspired by the Gurdjieff Movements, a set of sacred dances developed by Russian philosopher G.I. Gurdjieff at the turn of the century, the video is at once simple and incredibly complex and thought out.