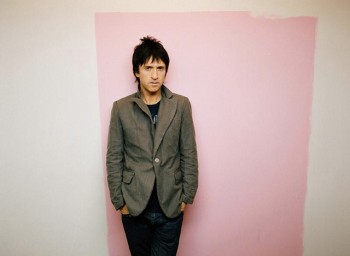 – THE DEAF INSTITUTE, MANCHESTER –
"You're cool!" This adoring yelp erupts mid-crowd of this packed room of the Deaf Institute. Johnny Marr carries on tuning up, having not even plucked note 1 of tonight's set.  Then he looks up and whispers into the mic: "I know."
And you know what – he is.  He knows.  We know he knows.  He knows we know he knows.  He just exudes cool – it drips like sweat from his pores, makes his shirt stick tight to his skin.  It matters not one jot that the adoring voice was a gruff male Manc.  We all love him.  Morrissey loved him.  The only other man on this planet who can draw such devotion from both men and women alike is also called Johnny and also has a punchy one-syllable surname.  But he's a pirate in the Caribbean, whereas Marr is Manchester's very own swashbuckling guitar hero.
Oh, the music?  Yes, the music.  There was definitely music.  The Healers – Marr's occasional band – seem to be a moveable feast but tonight are all on top of their game, crafting the perfect bedrock from which the songs can lift and soar, Marr's guitar jangling rhythmic skybound riffs.  All his side projects through the years – The Pretenders, Modest Mouse, The Cribs – are really side dishes to this true, hearty fare and in all honesty I would prefer Marr to nurture his own music and his own band, beyond the one album that The Healers have put out – 2003's Boomslang.  In these trying times we all need the soothing salve that such Healers music might form.
Perhaps these two rather informal gigs at the Deaf Institute are a prelude to that very notion – trying out new material like Upstarts and I Want The Heartbeat – road testing the music with a hometown crowd.  And the new songs are decent enough, although they'll need a few more plays to really bed in.  Perhaps inevitably it's The Smiths tracks that draw the loudest applause – Shakespeare's Sister, Sweet And Tender Hooligan and The Headmaster's Ritual.  Marr sings all the tracks tonight and his voice holds up well, especially over the gorgeous shimmering guitars of How Soon Is Now?
Well Johnny… it's now, it would seem, when we need your music like never before.  The gig is that shabby week when Manchester is crawling with Tories and at one rare chat between tracks Marr references the fact that David Cameron said they were his favourite band.  "I've put Dave on the door for tonight," he quips.  "Student Discount.  27,000 quid."
Beautiful.  Two fingers up to the world without resorting to actual digit play.  In any case, Johnny had the swagger before the Gallagher's had thrown their first punches at each other: the same Irish shaggy mane, the look, the moves.  His guitars – Fender Jaguars, I think – seem to want to hug him too, as his hips twitch, his head flicks from side to side and he stumble strums through another song. 
That famous 60's graffiti read: "Clapton Is God".  Right idea but wrong idol.  God was only 2 years old at that point… and living further up the M1.