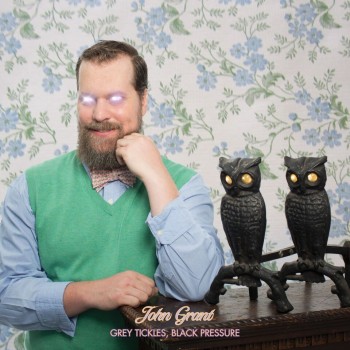 If you were to judge the new album from John Grant on the title alone, you may surmise that this was going to be heavy going. Especially when you find out that Grey Tickles… is the literal Icelandic translation for mid-life crisis, and that Black Pressure… is from the Turkish word for nightmare. Having listened to this album on repeat it is anything but a nightmare. There is playfulness and looseness to the music that makes the experience such a pleasure. The first time you listen to the album, you will sit back and be wowed by its ambition. Soon after you will enjoy it for what it is: a fantastic album.
For Grant the process of putting his latest album together seems to have been a more positive one than recent collections: "I do think the album's great, and I'm really proud of it. I wanted to get moodier and angrier on this record, but I probably had a lot more fun making it." He cites "amazing" session keyboardist Bobby Sparks, "who really funked things up," as part of that fun; likewise a month of Dallas sunshine "after a brutal dark winter in Iceland". There are angry moments, but they are hidden skilfully by an array of sonic experiments.
The album opens and ends with spoken word pieces called 'Intro' and 'Outro'. They are both taken from the same Biblical quotation (from 1 Corinthians 13) regarding the divinity of love that young John was taught in church, experiences that have shaped his later life and songwriting.
The title track, 'Grey Tickles, Black Pressure', ploughs similar musical terrain as his début solo release 'Queen of Denmark'. It's one of those slow building songs that he excels in writing. The lyrics almost feel like Grant is telling himself to step out of whatever black hole that he may well have found himself in.
The remainder of the album feels like he is taking the experimentation from his last album, Pale Green Ghosts, to the next level. Everything that he tries works well. 'Snug Slacks' is a great song and reminds me of the type of music that Beck was producing during his Midnite Vultures period. It's a musically sparse number set to a pulsing electronic back beat. The spoken word lyrics name check diverse talents such as GG Alin and Charlene Tilton. Even on his previous albums, which have dealt with darker aspects of his life, there has always been an element of humour contained within the lyrics. This is in evidence on this track and across a couple of other numbers too. There is plenty of positivity throughout Grey Tickles, Black Pressure, which is pleasing to his followers. Grant, for one, is in fabulous voice as ever, and its good that he has moved on from the specific subject matter of love gone wrong that shaped his first two solo albums
Like previous releases, there are usually some interesting cameos. For the first of the album's two collaborations, Amanda Palmer joins Grant on 'You & Him', which is a fast paced romp. Without the aid of a lyric sheet (or a link to one online), I'm sure that there is a reference to Hitler and knitting sweaters. That's either a first, or my ears need syringing.
'Voodoo Doll' really steps it up in terms of the funk. It's a song that works on many levels. It has the usual arresting trademark Grant lyric, but musically it certainly proves that the electronic musical heartbeat that pulses through this record is nothing short of mesmerising.
'Global Warming' is a beautifully rendered song that returns to the typical Grant musical template of old. It's good to hear Tracey Thorn singing again and she features on 'Disappointing'. The song is a tribute to new love. Grant's appreciation of language and other cultures becomes apparent with the name checks to Russian artists and "ballet dancers with or without tights".
'Geraldine' is a tribute to the late Geraldine Paige who Grant describes "as one of freakiest, strongest, coolest actresses I've come across". It's his latest actor-inspired song that is an equal, if not better than 'Ernest Borgnine' and 'Sigourney Weaver' from his previous releases.
The progression from his first three solo albums has certainly been an interesting one that makes you long to see where he can go next. For now, there is so much to savour on this album. I'm sure that this album, as with his previous ones, will be decorated with many awards come the end of the year.
Release Date 09/10/2015 (Bella Union)
John Grant Official | Facebook | Twitter | Soundcloud