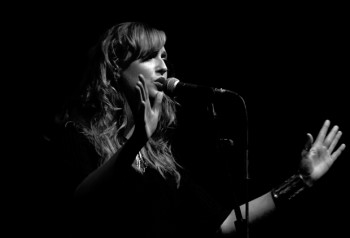 – HMV RITZ, MANCHESTER –
With night organisers Hit & Run proclaiming that they refuse to be "pigeon-holed and categorised", tonight's headliners Submotion Orchestra offer a diverse enough spectrum of influences to uphold their ethos. The Monday 'Quality Bass Music' night, now in it's 5th year, has moved on from it's Mint Lounge residency to spend this new academic year at the refurbished and more spacious HMV Ritz.
Hoya:Hoya Kingpin Johnny Dubb and DJ Rich Reason warm up the 1000+ crowd of Freshers and regulars with wobbly dubstep, hip-hop, drum & bass and a live MC. Hooded kids pull faces at, and showboat for the many cameras, while older gig goers enjoy the student priced drinks from the tables that line the sides of the central dance floor.
This is Leeds based Submotion Orchestra's opening night of a 19+ date European tour, to promote their debut album 'Finest Hour', which was released in May. Vocalist Ruby Wood's permanent smile attracts the brighter lights. Her 5 stage mates are circled around her with an impressive artillery of instruments and a 7th member, sound designer Ruckspin, hides away amongst the crowd at the mixing desk, adding effects and trickery.
A majority of the band have a jazzy background and the contemporary result is a sound that struggles to avoid comparisons with The Cinematic Orchestra. This said, the resemblance comes and goes along with plenty of other influences, to create something that supports a revival of the mid 90's underground dance scene.
Keyboardist Taz Modi played with Manchester based trumpeter and composer Matthew Hallsall at London's Proud Gallery 3 years ago, where his solo's were intricate and exhilarating. Tonight, he is less prominent in this live mix, occasionally cutting through but adding plenty of depth.
Submotion's own trumpeter Simon Beddoe is key to building momentum, the instrumental portions remain interesting mainly due to this clear, sharp, raspy and echo-laden solo brass section. Largely understated and progressive like Miles Davis, but occasionally moving into ska or even something like Rafael Mendez, a breathy blast never fails to raise the crowds excitement levels.
Live drummer Tommy Evans hits the occasional Soulfood drum & bass beat, and at moments when the slower tunes start to build momentum, he reminds me a little of Luke Flowers. Percussionist Danny Templeman injects a tribal quality and bassist Chris Hargreaves deep and simple bass lines warrant dubstep similarities to the likes of Scuba or Martyn.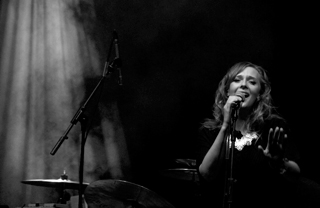 When it's dark, it's very dark. The deep rumblings warp menacingly as if from Ed Rush and Optical's 'Wormhole'. When it's chilled, it's very chilled as Ruby's Sade-like vocal soothes, using simple and optimistic lyrics, accompanied by a delicate piano like that from Massive Attack/Craig Armstrong's 'Weather Storm'. During a calmer moment, a small hardcore section of the crowd ask each other "what is this bollocks", only before another change in gear by the band induces the now jumping and full dance floor to simultaneously and spontaneously raise their hands. The fluctuating tempo and volume cannot avoid occasionally alienating a small portion of the audience.
New single 'Always' provides a highlight for me, the key stabs and bouncy bass line make it difficult to remain still. Jazzanova and Good Looking's Blame spring to mind, in my eye's the 90's drum and bass explosion fizzled out when we were bombarded with a dizzying array of sub-genre's. But what I'm hearing now brings together the finer qualities that made each of those categories potentially interesting, with the added benefit of advances in technology and the addition of live, talented musicians. A temporarily postponed logical progression.
'Angel Eyes' is another highlight, starting slowly and beat-less like an epic Goldie track, before that warm vocal takes us to a plodding dubstep beat, backed with synth strings. Again, it builds with the introduction of deep rumblings and progressively more intricate drumming.
Today is Ruby's birthday, news which brings almost the loudest cheer of the night (loud). Submotion Orchestra have successfully combined their collective influences and backgrounds to create a coherent and diverse performance, which captivated a majority of the attentive and reactive audience. Their passion for what they are doing is plain to see, a quality which cannot fail to endear them to crowds on the rest of the tour.