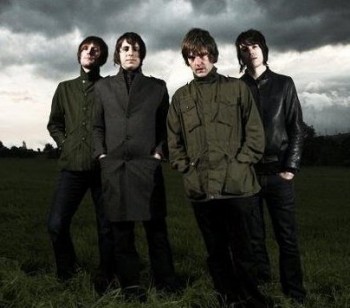 – THE ROADHOUSE, MANCHESTER –
If a sign was needed that Exit Calm were gathering a bit of momentum, the crowd that greets me at The Roadhouse is it. It's certainly a welcome sight – vindication of my faith in this young band from South Yorkshire.
The previous time I saw them, I could have walked from the back of the venue up to the front and prodded the lead singer in the chest and no one would have been in my way. This time, I have to fight my through a gang of ponytailed thirty-somethings, couples having it large, and over zealous teenagers, all of whom seem to have made Exit Calm their new favourite band.
The Roadhouse is nicely bristling with anticipation, but my mood turns sour pretty quickly. From the opening bars of the first track, it is clear that there are problems.
The clear, airy vocals I know from the album are missing, a fact not lost on animated bass player Simon Lindley, who seems to have twigged that the speakers are mangling the sound.
Frontman Nicky Smith tries desperately to adjust his mic at the end of each song, while guitarist Rob Marshall attempts to cut his levels – with little effect.
The sound problems don't stop most of the crowd from enjoying themselves, but it ruins the gig for me. I'm sure it's just a blip though.
The increase in the size of the crowd is a good sign that the career of this four-piece is in the ascendancy. The release of their latest EP, Don't Look Down, should help propel them to bigger, better venues and I'm certainly looking forward to that day.