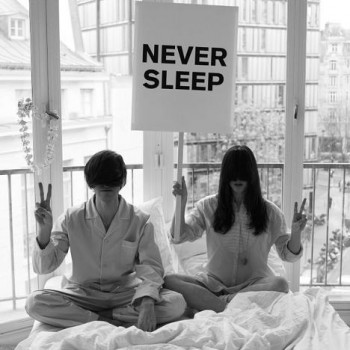 The Narcoleptic Dancers release their debut album 'Never Sleep' on September 26th via Bleepmachine & Capitaine Plouf.
Last year brought to light the unusual union of Melody Van Kappers and Anton Louis Jr, the half-brother and sister outfit that fate magically brought together.
Forming a duo happened simply and naturally. Melody kindled a carefree attitude in Anton that he didn't have as a child. They called themselves 'The Narcoleptic Dancers' in homage to their father, Johnny Van Kappers, a Dutch professional footballer who rose to fame in the 70s. His notable talent graced several European clubs in the day, and his charming manner attributed to his popularity, beyond the realms of the football pitch….The sport's press gave him the nickname 'Narcoleptic Dancer' in reference to his nonchalant dribble and distinctive haircut.
And so Melody and Anton were born, 10 years apart, in two different countries – Haarlem in the Netherlands and Saint- Etienne in France, with the pair totally oblivious to each other's existence. Only at their father's funeral would they finally meet and share their communal passion: music. From then on they were inseparable, making up for lost time.
Driven by a creative youthful spirit, the pair tirelessly write and compose sweet melodic songs that are that are gentle, fresh, light, optimistic and poetic in tone.
The album is co-written and composed by Melody and Anton. The band chose Axel Concato (Axel And the Farmers, Hushpupies) to produce and arrange 'Never Sleep' which was recorded in two weeks between home and Plus 30 Studios in Paris, mixed by Maxime Le Guil and mastered by Mandy Parnell at Black Saloon Studios in London.
Their first EP 'Not Evident' came out in Autumn 2010 and made an instant impression. Their fresh, spontaneous melodies went down a storm on both sides of the Channel.
The debut 'Never Sleep' brings together the best of their youth from electro-pop to charming folk ballads. Their influences span from The Breeders to Zooey Dechanel, with a little Grizzy Bear, Broadcast and Deerhunter, somewhere in-between.