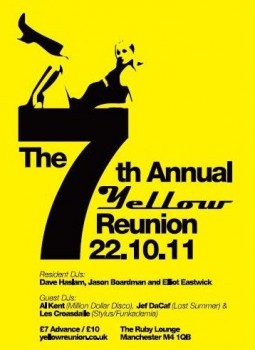 Aficionado Halloween Special: Electrik, Chorlton. October 30th 7:00pm – October 31 at 12:00am Free Entry
After a brilliant party with Phil Mison which saw us wave goodbye to this year's Bank Holiday weekends, Aficionado are back at Electrik for an evening of ghoulish sounds & balearic beats with a very special Halloween flavoured event.
Aficionado's resident grave doggers (Full)Moonboots & Jason "Ouija Board"man will be joined by the guests Crowhead & Moggsy to provide spine tingling sounds from 7pm until the Witching hour.
Expect frights & delights!
Yellow Reunion 2011: The Ruby Lounge, Manchester. October 22nd
The 7th Annual 'Yellow Reunion' will take place at the Ruby Lounge on Saturday 22nd Oct 2011. The original 'Yellow' residents DJ's Dave Haslam, Jason Boardman, and Elliot Eastwick will be joined by special guest DJ Al Kent (Million Dollar Disco) plus Jeff DaCaf (Lost Summer) and Les Croasdaile (Stylus/Funkademia).
*****Advance tickets £7 Frrom here; http://tinyurl.com/yellowOct2011