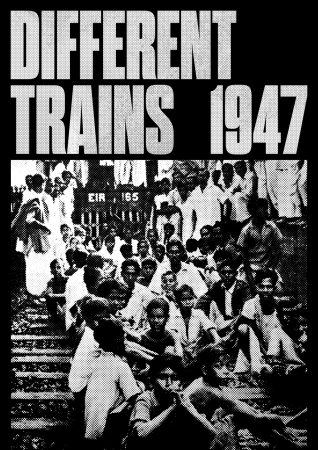 Tonight Different Trains 1947 will premiere at the oldest passenger railway station in the world – Edge Hill Train Station in Liverpool. Marking the 70th anniversary of Indian Independence this year, the night will feature British Film Industry (BFI) social archive footage from both India and the UK, alongside music from a range of artists including Sandunes, Jivraj Singh, Priya Purushothaman, Actress, and Jack Barnett of These New Puritans. Support will be provided by Warp Record's Darkstar, who through working with young people in Wavertree have created 'Trackbed', a project using a combination of sound installation and performance. As well as filmmakers/artists Iain Forsyth and Jane Pollard, who will perform a new audiovisual composition in response to the events of 1947.
Inspired by minimalist Steve Reich's seminal work Different Trains, Different Trains 1947 will contain film footage put together by Aanchal Malhotra in India, and Jah Jussa in the UK, both of whom have firmly established themselves in the arts.
Once premiered at Liverpool's Edge Hill Train Station, this commissioned work will then be presented at Barbican Hall in London on Sunday 1st October 2017, and then further afield at Magnetic Fields Festival, within the grounds of a 17th Century palace on the edge of the desert in Rajasthan, in India, on Friday 15th-Sunday 17th December 2017. Making this debut on local soil, one not to be missed.
When? Wednesday 27th September 2017 at 7pm
Where? Edge Hill Train Station, Liverpool
How much? £22 (INCL FEES FOR E-TICKET) – for tickets visit differenttrains1947.com.
Metal Presents: Different Trains 1947 Official | Facebook | Twitter | Instagram