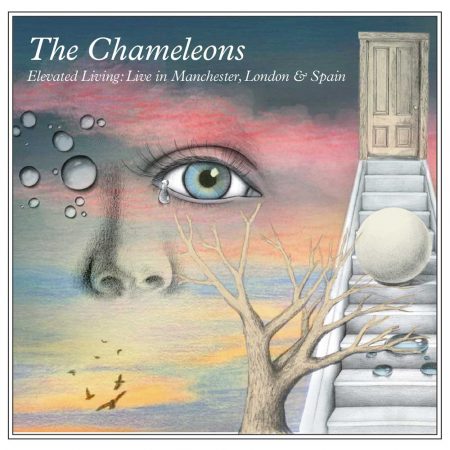 The Chameleons, part of Manchester's musical tapestry and post punk pioneers, may never have received the accolades many felt they deserved in the eighties, but since their split in 1987, followed by frontman and bassist Mark Burgess resurrecting them in various forms from 2000 onwards, their legacy has only expanded. Now touring again as The Chameleons, with Burgess and guitarist Reg Smithies in the line up, (drummer John Lever sadly passed away in 2017), their appeal and fanbase has grown substantially as more music fans catch up on their genius. Their beautiful yet often melancholic sound is absolutely spellbinding live, and this new box set CD and DVD compilation captures the band in all their 1980's live glory.
As mentioned in Burgess' brilliant autobiography 'View From A Hill',  Mark Burgess, Reg Smithies (guitar), Dave Fielding (guitar) and John Lever (drums) were four down to earth blokes from Middleton, Manchester who seemed to always make life harder for themselves, in terms of getting any musical breaks in the eighties. Yet it was also this resolve to stick to their creative principles which won the hearts and ears of many indie music fans and in some respects has only made their legacy even more mysterious and appealing. The songs are huge sounding melodic, bittersweet guitar anthems, yet never found the band scaling the dizzying heights of the charts or large arenas, instead they've become cherished motifs for generations of indie fans around the globe and now firm staples in any decent indie record collection.
Disc One has the sets from two hometown gigs at the long since defunct Gallery Club in December 1982, and another from The Hacienda in January 1983. Chameleons' classics 'Paper Tigers' and 'Second Skin'  from the' Script Of The Bridge' album, and the classic single 'In Shreds' all sound extra ethereal live, with the guitars echoing around the powerful basslines and pounding drums. The Hacienda show has the added highlights of some tunes receiving an airing which were then works in progress but still sound epic, such as 'Men Of Steel' which went on to renamed as 'A Person Isn't Safe Anywhere These Days' and 'Years Ago' which was changed to 'Thursday's Child', both tunes appearing on the debut 'Script Of The Bridge' album released later that year. "Should have got my haircut, forgot it was The Hacienda" Burgess quips in between songs, presumably referencing the post punk Mancunian style of the mid-eighties. It also seems to sum up The Chameleons' appeal, never riding the wave of current popularity but existing in their own realm of perfectly crafted tunes, with a loyal and ever expanding fanbase. Nowadays everyone from The Charlatans to Interpol and The National have all cited The Chameleons as an influence, yet when signed to major labels in the mid-eighties, wider success seemed to be always just out of reach for a band wanting to stick to their own artistic vision and not be swayed by the corporate money grabbers and their ideas of what a band should be doing.
The second disc opens with a perennial favourite 'Don't Fall' with Burgess' angst ridden yet melodic vocals sounding immense, and begins their live set from The Camden Palace in November 1984. Other highlights include the as yet to be released 'Return Of The Roughnecks' and 'Singing Rule Britannia (While The Walls Close In)' both of which saw the light of day on their second album 'What Does Anything Mean Basically' in May 1985, There's also their cracking cover version of 'Splitting In Two' by Alternative TV, with The Chameleons frenetic approach doing the song justice. The third disc in this package is a DVD of the Gallery, Hacienda and Camden Palace gigs, plus a performance aired on Catalan TV programme Arsenal from 1986, filmed live at their gig in Barcelona along with an interview with Mark Burgess and John Lever.
This box set manages to bring to life the powerhouse of sound that was, and still is, The Chameleons live. A must have for both the diehard fans and the newcomers alike, it's the musical equivalent of a time capsule, a snapshot of one of Manchester's finest in full flow.
Elevated Living: Live In Manchester, London and Spain – Out 24th September 2021 (Cherry Red Records)
The Chameleons play Manchester Ritz on 17th and 18th December 2021.