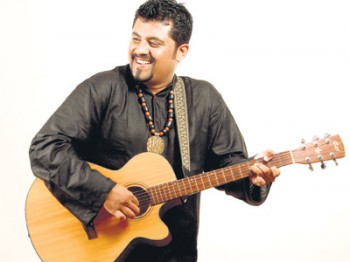 – BAND ON THE WALL, MANCHESTER –
As I wander through the half-filled, refurbished environs of The Band on the Wall, I gaze up at the Indian dropout, hippies onstage who seem to have been sent here through a time warp from the 1960s (via the 1980s). Decked in washed out, bleeding baggy clothes, string necklaces, flowing hair tumbling down to the bassists waste, the man on the middle left is playing a solo on an electric violin through a wah-wah peddle while the drummer is laying down a pounding, driving rhythm.
All are smiling benevolently as if in the grips of an opium binge – though I'm sure they're not! The sixties might have ended here, but not in India. As they launch into the second track, 'Mysore Se Ayi', a warm track based around a catchy acoustic guitar riff and Bedouin yelping, the whole crowd, except the outcasts at the back (me included), start bouncing around like grasshoppers being shaken in a packed lunch box. Raghu Dixit is putting on a spellbinding performance!!!
Am I in the right venue? Is this the same band whose CD I reviewed a few weeks back? Raghu Dixit, the album (read the review here), fused traditional Indian music with hair rock, indie and other genres with the hit and miss accuracy of Father Ted's attempts to kick bishop Brennan up the arse, regularly tipping into naffness.
These are the same songs live, but there are a few fundamental differences. Firstly, the rhythm section is given far more prominence providing the sound with a raw energy that is sadly absent from the album. Secondly, and more importantly, Raghu Dixit fills the room with his irresistibly happy personality, his sharp sense of humour and witty banter with the crowd.
Even when the music goes a bit Poison towards the end, and the guitarist launches into his umpteenth metal solo, it's hard not to feel entertained, not least because the other band members obviously feed off his personality. Dixit is a lightening rod for positive vibes, and we are wires feeding off him. The music might be intermittently lame, but the man is a born performer. He should have his own chat show.
I nearly didn't come out tonight. It was raining, I was exhausted, I was hungover, but Raghu Dixit gave such a phenomenal performance making me so glad that I made the effort. This was sadly the final show of this third visit to the UK this year. When he comes back I'll be there, not expecting the best music from a technical/cutting edge perspective, but an evening with one of the best entertainers around. I can't wait!