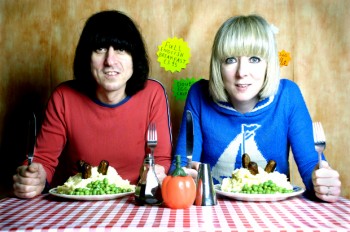 The Lovely Eggs return with their third album 'WILDLIFE' after a year and a half touring their critically acclaimed second album 'COB DOMINOS'. This time the Eggs return with an album that encapsulates the isolation of extensive touring and brief time back in their home town Lancaster.
The two piece raucous noise pop duo combine their gritty British northern surreal lyrics with thunderous guitars and crashing drums on this their third self-recorded gem. Working alongside Gruff Rhys who produced  Allergies and Cornershop's Tjinder Singh who has remixed Food for a special digital download, Wildlife is yet another wonderful and unique album from a band who continue to cement their reputation as one of the most genuinely exciting and essential bands around today.
Already lead track Allergies, the first single taken from Wildlife,  released on the Too Pure Singles Club, has won the BBC 6 Music Rebel Playlist – with 82% of the public vote and declared winner of Steve Lamacq's 6 Music Round Table as well as Artrocker's single of the month.
For The Lovely Eggs being in a band is a way of life. True to this, they live the way they play. Fiercely, constantly in search of the good times. Touring extensively throughout the UK, Europe and the USA, The Lovely Eggs have become underground festival favourites performing at SXSW, Bestival, Green Man plus many more with their off the wall anthems 'Fuck It' and 'Don't look at me I don't like it'.
With much support from 6 Music and Radio One's Huw Stephen's (who tipped them as wild cards in FHM's 2012 one's to watch) Holly (guitar/vocs) and David (drums/vocs) have worked with comedian Graham Fellows (aka John Shuttleworth) as well as Jad Fair from the seminal Texas band Half Japanese. Their songs appear in Canadian film Molly Maxwell to be released  early 2013 and have been sampled by Zane Lowe for Scroobius Pip. The pair also feature on a Radio 4 Richard Brautigan documentary this autumn, presented and in discussion with Jarvis Cocker contemplating the influence of the American surreal author on their music.
With this their third album in three years The Lovely Eggs explore further into their own world and the bizarreness of reality and invite you to come inside to join the party, strange as it is!
The Lovely Eggs head out on a UK tour to promote 'WILDLIFE' on November 21st.
OCT DATES
WED 2ND OCT – The Ruby Lounge w Shonen Knife  MANCHESTER
THUR 3RD OCT Glee Club w Shonen Knife NOTTINGHAM
FRI 4TH OCT The London Palladium  LONDON
SAT 5TH OCT The Victoria  BIRMINGHAM
SUN 14TH OCT The Continental w The Nighingales PRESTON
THURS 18TH OCT Swn Festival CARDIFF
THE LOVELY EGGS
'WILDLIFE'
EGG 002
Release Date 26th Nov 2012