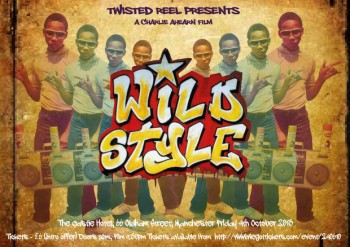 Before Hip-Hop became synonymous with guns, bitches and bling, it was all about good music, breakdancing and graffiti…
Twisted Reel, the new music based film night to hit Manchester kicks off with a bang with a special screening of 'Wild Style' the 8o's Hip Hop film classic.
Celebrating the 30th Anniversary of this seminal film's release, Twisted Reel's Wild Style night will bring Charlie Ahearn's film to the big-ish screen for the first time for many. Acknowledged as the first  Hip Hop motion picture, and starring  Fab Five Freddy, Lee Quinones, Lady Pink and Grandmaster Flash amongst many others,  Wild Style is a must see for music lovers of all ages and tastes.
Before and after the screening local DJ Rich Coyle will be hitting the wheels of steel, the platters that matter…ahem…spinning a whole host of hip hop gems, so c'mon all you B- boys and B- girls grab your Kangols, slip on your Puma States and get down to the Castle Hotel on Friday the 4th of October for the first in what's sure to be a great new Manchester night.
Over the next few months Twisted Reel will be bringing for your delectation and delight a whole host of music related cinema, from classics such as Wild Style to lesser known joys from the independent music based film circuit. Keeping the party going, post screening, will be DJ's playing tunes in keeping with the night's film ensuring that Twisted Reel will be an adventure in celluloid that's not to be missed…
Tickets – £6 (intro offer) http://www.wegottickets.com/event/240610
Doors 8pm, Film 9.30pm