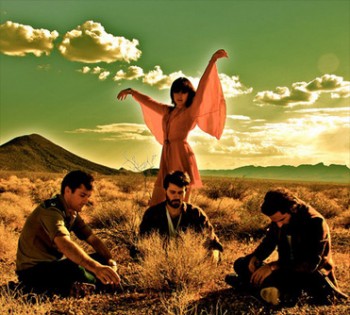 Howling Bells will release their new album on September 12th on Cooking Vinyl. Recorded in Las Vegas with The Killers' Mark Stoermer producing, 'The Loudest Engine' will be preceded by a clutch of live shows, including a London date at the Electric Ballroom on September 15th.
A raw, psychedelic third record, and the sequel to 2009's "Radio Wars", the recording of "The Loudest Engine" saw Howling Bells, the Australian-formed, London-based four piece comprising singer/ guitarist Juanita Stein and her brother Joel (lead guitarist), drummer Glenn Moule, and bassist Brendan Picchio – forge a sonic union with Nevada's expansive surroundings and Las Vegas's street-soiled vibe.
Says Stein of the album, "There's a singular sound which is more folk and rock than our last two albums, but it's interpreted in a modern sense. It wasn't a conscious effort to make a '70s tinged record. It was a very natural progression.
"The album shows that we're 21st century kids making a modern psychedelic record. [It] is our grown up record. The first was about that great initial leap, the second was us exploring different waters. This one is us, all having met at one place, at one time. I think this record will change people's perspectives of the band."
September Dates:
Weds 14th – Portsmouth – Wedgewood Rooms
Thurs 15th – London – Electric Ballroom
Fri 16th – Sheffield – Plug
Sun 18th – Leeds – Cockpit
Mon 19th – Glasgow – Oran Mor
Tues 20th – Manchester – Academy 3